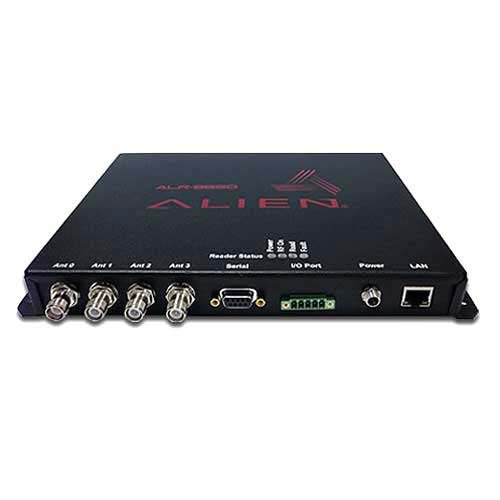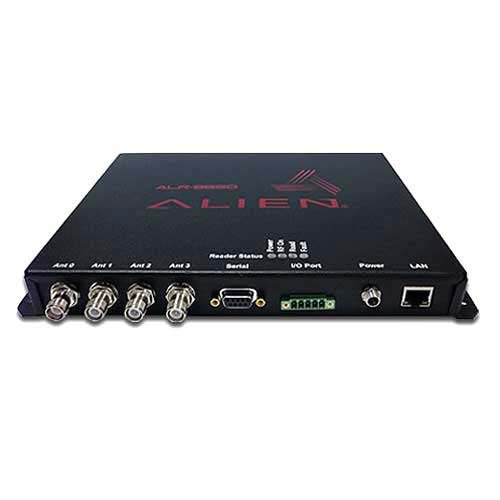 Alien ALR-9680 Fixed RFID Reader
---
Interface

Serial

Ethernet

RFID Frequency

UHF
---
Product Highlights
Alien, Reader Kit, RFID Reader, 4 Port, UHF POE, Monostatic, Power Supply and Cord Included

Spec. Sheet
Alien ALR-9680
Commercial 4-Port RFID Reader
Rapidly deploy RFID with the Alien® ALR-9680 commercial UHF reader with enterprise class 4-port flexibility and Alien reader "intelligence"
Feature-rich Alien Reader Protocol
4 mono-static reader ports
POE eliminates cost of AC power drop
EPC Gen 2 dense reader interoperable
Slim form-factor for installation in height-restricted places
Manageable and upgradable
Simple, Low-Profile, Gen 2 RFID Solution
With Power-Over Ethernet (POE) and out-of-the-box software that is compatible with other Alien readers, the ALR-9680 is a simple, low profile solution that enables users to start reading tags and developing solutions immediately.
Easy Integration
The ALR-9680 communicates via the easy-to-use Alien Reader Protocol with key RFID platform support including Microsoft® BizTalk RFID, OatSystems, Oracle®, Xterprise and others
A well-documented SDK featuring .NET, Java and Ruby libraries enables development of custom interfaces to control the reader if desired. The user-friendly Alien RFID Gateway software enables solution development immediately.
Low System Costs
The cost of installing AC power can sometimes rival that of the reader. The ALR-9680's POE capability allows power to be delivered over properly-equipped local area networks, eliminating expensive AC wiring installation. A POE power injector is provided to supply power if POE is not available. The combination of this capability with up to 4 antenna significantly reduces the cost and complexity of installing an RFID read point.
Developer Kits
Developer Kits come complete with all the essentials to get started:
ALR-9680 reader
A circular polarized antenna
Software Developers Kit (SDK) (via download)
Universal power supply
RS-232 cable
Ethernet cable
Sample tags
Convenient carrying case
Alien Power Adapter

( SKU: ALX-422 )

POE INJECTOR - COMMERCIAL (1Gb) FOR ALR-F800, ALR-9650, ALR-9680