Custom RFID Labels and Tags
We manufacture custom RFID labels and tags. Our customized RFID labels and tags can be pre-printed from 1 to full color process front and back. Custom RFID labels can include perforations, slits and the RFID inlay of choice. Our synthetic materials can meet any harsh environment or outdoor UV exposure.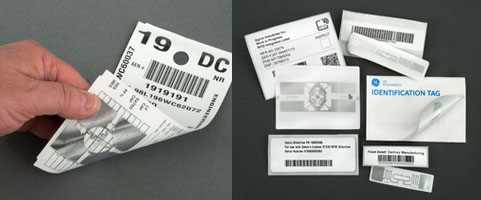 Our RFID labels are produced with state-of-art insertion verification equipment to insure all inlays are 100% guaranteed. When encoded with RFID values, each label transmits that encoded information to your fixed or handheld RFID reader.
We can pre-print your RFID labels with your customized print, 2D or linear barcodes, sequential numbering, or plain text. Let us know your requirements, and we will have pricing available in less than 2 business days.
For over 22 years the BarcodeFactory has served the thermal transfer print industry with custom and stock labels. We work with all major RFID tag inlay manufacturers to ensure we offer the right RFID inlay for your application. Our inlay manufacturers include inlays from Alien, Smartrek, Confidex, Impinj, Intermec/Honeywell and more.
For a list of RFID Stock labels, see our RFID labels page. For a quote on custom RFID labels or tags, please fill out our RFQ form, or contact us for more information. Needs samples to test contact us.