Labels made perfectly to your needs
Custom Printed Labels
Full-color labels attract and inform consumers about your product or brand. Our team of label experts provide innovative labels for every industry, and our diverse manufacturing capabilities are unmatched for full-color labels, blanks labels with special features, or labels with one or more colors printed on the front or back. Whether it is fast turnaround digital or long-run flexo, we have the technology to meet your custom label needs. Contact us for fast turnaround or for more information on our many services. Let us assist with management of your supply and distribution chain and lifecycle management of your labels.
Are you paying too much for a stock label? You might be surprised to hear that our custom labels are often 40% cheaper than most off-the-shelf labels.

Answer a few simple questions on the quote form below or contact us at 888-237-8525. In addition to custom blank labels, we offer thousands of stock labels at Barcode Factory. We have the expertise to deliver your perfect label, at the right cost.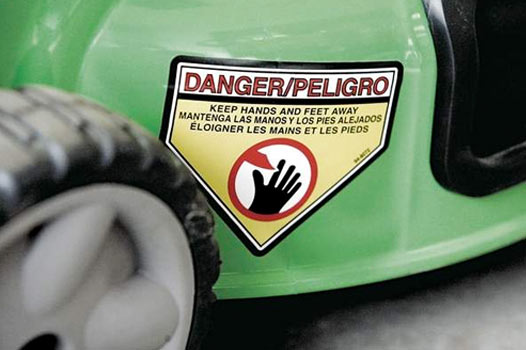 Durable - Waterproof Labels
You Choose What You Want
Whether you need custom pre-printed color or blank labels, choose from the options below in any combination. Let our label experts help you.
Material
Over 200 face stock materials from synthetics to a wide variety of papers, plus hundreds more from well-known label manufacturers.
Adhesives
We have an adhesive for your application environment, whether that be hot, cold, dry or wet. Adhesives include permanent, removable, ultra-removable, repositionable and ultra-high tack.
Coatings
Our coatings include thermal transfer, direct thermal, laser, inkjet, matte or gloss UV, aqueous and lamination.
Size
We can manufacture any size labels you need on standard rolls or sheets. We also offer custom quantities per roll.
Shape
Pick from thousands of square, circle, oval, or rectangular dies or order your own custom shape. The die will be available for future reprints.
Small & Large Volume
Our short-run presses offer economical pricing for amounts as low as 25 labels. We have high-speed offset, flexographic, and digital printing that can drive your cost per label down to pennies.
Testing / Proofing
Contact us for options to test or prove your concept. We offer a wide variety of test services.
Distribution
Our distribution and manufacturing are located throughout the USA to reduce your shipping costs and speed up delivery.
Warehousing
If your label quantities require it, we offer warehousing and distribution on demand. Save space and always have a guaranteed label supply.
Compatibility
All of our labels are compatible with all major brands of direct thermal and thermal transfer, dot-matrix, inkjet or laser printers. We also offer material specifications on ultra-critical labels.