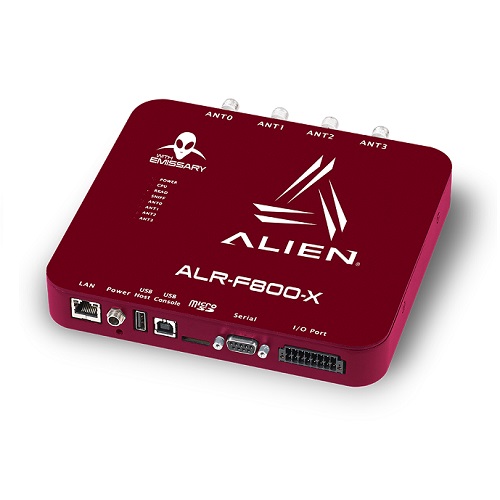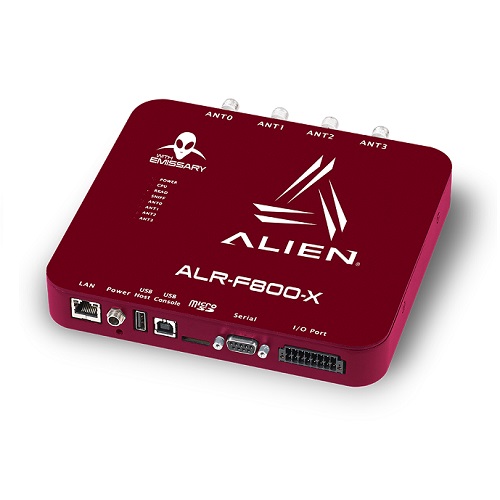 Alien ALR-F800-X Fixed RFID Reader
---
Interface

Serial

USB

Ethernet

USB-A

RFID Frequency

UHF
---
Product Highlights
Alien, F800-X Reader Only With Emissary, Can Configure Up To 8 Units

Spec. Sheet
Alien ALR-F800-X
Enterprise RFID Reader and Edge Service Device
Alien is Reinventing RFID with the ALR-F800-X, a Revolutionary Solution That Simplifies RFID Infrastructure Installation, Operations and Maintenance by Combining an Enterprise RFID Reader and Edge Service to Provide Multiple-Reader visualization and Management.
The ALR-F800-X is a truly transformational product created by the merging two core capabilities present in any solution. It is an ALR-F800 based 4-port Enterprise Class UHF Passive Reader and it is an Edge Service controller or manager that supports other readers in the network providing a complete Industry 4.0 solution.
By transforming the reader into both a middleware host AND an application host, multiple layers of complexity and cost are thereby eliminated.
By processing data elements at the source, the VALUE of the data is exponentially increased, because individual read points throughout a vast enterprise can be examined and evaluated in real time. This adds immeasurably to the richness and quality of the Big Data analytic scenarios now emerging in every area of business life.
Alien Emissary
Emissary comes embedded inside the ALR-F800-X at no additional cost and is ready to use "out of the box" without the complexities associated with downloading special licenses. Each ALR-F800-X supports four additional readers (for five readers in total), and no additional Edge Server is required (the ALR-F800-X performs this function). The ALR-F800-X with Emissary is designed to be low fuss and simple to use.
It visualizes readers, antenna and other IO devices into a more logical view that is more customer centric. A complete multi-reader/device workflow can be described from built in Activities resulting in simplified installation, operation and maintenance.
Emissary consists of:
User-friendly and familiar device and location naming for multiple read-point environments;
A simple mechanism to define and visualize how reader and non-reader hardware are applied to these various locations;
Built-in common activities (such as read a tag, turn on a light);
A Microsoft Windows tool for combining activities into the desired multi-reader and multi-
I/O device workflows (across multiple readers);
Automatic interpretation of the correct Tag Data Standard when tags are read; and
Aggregation of tag read data (reports) into the ALR-F800-X where consolidated reports
can then be transferred to the cloud or server (reducing data flowing between them).
Features
Reader + Multiple Reader Configuration and Management in one device
Logical device and place naming
Visualize hardware and peripherals
Built in Activities
Workflow creation tool
Automatic Tag Data Standard interpretation
Automatic aggregation of data
Class leading Global EPC Gen 2 4-port RFID Reader
Same footprint as Alien's ALR-F800 UHF Enterprise Reader
Built in handling of common chores
DSA (Dynamic Self-Adapting) real-time read optimization
Power source agnostic and auto-switching
Feature-rich Alien Reader Protocol
Dynamic Authentication of Higgs™ ICs
Exceptional sensitivity and performance
Automode, with on-board state machine
RoHS EU 2002/95/EC compliant
Plenum Rated (EAHS) per UL 2043