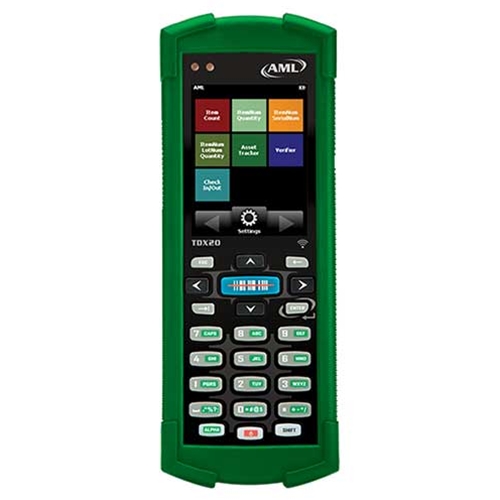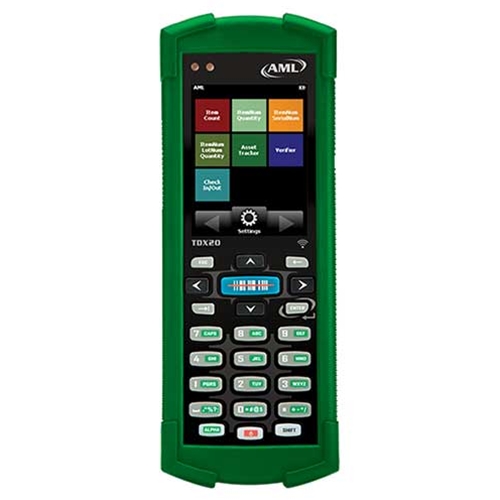 AML TDX20 Mobile Computer
---
Scanner Type

CCD

Scan Range

Standard

Form Factor

Phone-size

Interface

Bluetooth

Wireless LAN

IP Rating

IP54

Operating System

Windows CE

User Input

Touchscreen

24-Key

Alphanumeric Keypad

Screen Resolution

320 x 240
---
Product Highlights
AML, TDX20 Handheld Computer, CCD, Windows Ce 6.0 Pro, 802.11b/g/n Radio, And Bluetooth 4.0 Radio

Full Specifications
AML TDX20
Wireless Handheld Computer
The TDX20 wireless handheld computer brings affordability and convenience to barcode data collection applications. Designed for light-to-medium duty environments, the TDX20 allows users to go wireless when collecting data for a variety of applications including inventory control and asset tracking.
The TDX20 comes with Internet Explorer® for those users working in a cloud-based environment, but also comes pre-loaded with AML's highly-acclaimed DC Suite Software which includes an array of pre-written applications for common "batch" barcode data collection tasks. DC Suite can be "Wi-Fi enabled" with the addition of DC Uplink (license required). And because the TDX20 runs Windows CE 6.0 Pro, many third party software packages will run on it as well.
The TDX20 is engineered, manufactured and service in the U.S.A. and delivers the power, performance and versatility at an affordable price.
Features
Lower Investment Cost
Operate in Batch or Wireless Mode
Protective Case
AML ScreenFlash Technology
Pre-Loaded Software Applications
Benefits
The TDX20 is an amazing value in its own right, but the addition of DC Suite creates a total hardware/software solution that is affordable to any sized business.
While the TDX20 is a wireless handheld computer equipped with an 802.11bgn radio as well as a Bluetooth 4.0 radio, it can also be used as a "batch" data collection device when a Wi-Fi network is not available. Your data is never stranded.
The protective silicon case seals the TDX10 to an IP54 rating and protects if from drops.
AML's proprietary ScreenFlash technology flashes the entire screen red or green for any number of user alerts such as good or bad barcode reads or application warnings.This feature alerts the user even if they are only viewing the screen through their peripheral vision and is especially helpful in noisy environments where the device beeper may be drowned out by surrounding noise.
Every TDX20 comes with DC Suite which includes seven software applications to accommodate the most common barcode data collection tasks, making it ready to go to work right out of the box.