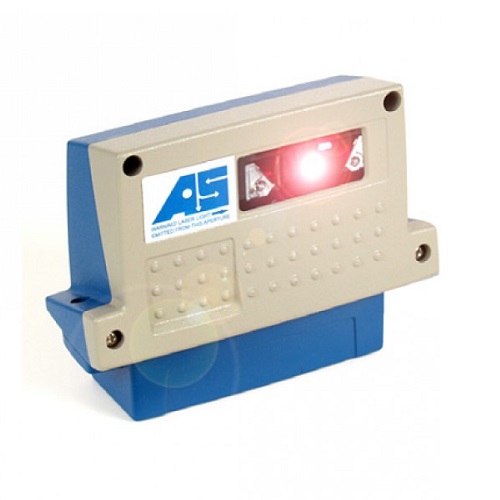 ---
Connectivity

Corded

Scanner Type

1D Laser

Form Factor

Hands Free

On Counter

Fixed Mount

Scanner Includes

Scanner Only [No Cable]

Interface

Ethernet
---
Product Highlights
Datalogic Automation, Corded, AL5010: 2 Laser Standard Density

Spec. Sheet
Datalogic AL5010
Datalogic ACCULAZR AL5010
AL5010 is a high performance industrial laser scanner with cutting edge integrated control technology meeting the demands of existing and new automated facilities
Excellent Performance
Using multiple lasers, the AL5010 is the only product in its class to use simultaneous scanning technology with a two laser design to aggressively read low grade barcodes over the largest scan area. With 1200 scans per second, the AL5010 can support applications with very high transport speeds or small bar codes. With DRX bar code reconstruction technology, tilt angle can be increased for reading damaged or misplaced labels.
Ease of Use
The integrated touch button display technology quickly provides information on network connectivity, barcode reading quality, errors, trigger, and transmittal of information to the host. The five LED bar-graph provides a quick and simple way to determine the reading performance without using external computers or terminals.
Using the upload or download buttons, the settings of the scan head can be uploaded or downloaded with a simple touch of one button. This functionality allows for hot swappable scan head replacement or when quickly installing many scanners at the same time.
Remote Access
With an integrated web server and on-board TCP/IP, the IP address of the scanner can be accessed directly or remotely. The web pages are designed for simple and intuitive setup and monitoring of the system using a simple web browser. Advanced HTML5 is also present, allowing devices such as the iPhone or iPad to connect to the device directly using the same protocol as internet web pages. Screens have been optimized for the iPhone to allow for immediate access to the detailed performance of the system, dramatically reducing the time to troubleshoot any problems.
Industrial Features
With its rugged construction, IP65 protection class, 50C max operating temperature and internal oscillating mirror, the AL5010 is purpose built for the most demanding industrial environments. The basic and enhanced wiring boxes are integrated and protected, allow fast and simple installation without additional cables.
HIGHLIGHTS
Largest depth of field of any mid-range laser barcode reader on the market
PackTrack advanced tracking allows closer package spacing while maintaining package ID
Integrated web server with monitoring support for iPhone and IPads
Multi-language integrated GUI
Easy "plug and play" replacement
Flexible connectivity with onbaord EtherNet/IP, Ethernet TCP/IP
Reliability > 50,000 hours MTBF at 25C
No maintenance
APPLICATIONS
Automated warehousing
Picking systems
Pallet reading
Label print and apply verification
Automated shop floor
Item and part tracking
Manufacturing process control systems
Datalogic Service

( SKU: ZSWAL5001 )

Datalogic, Automation, Warranty, AL5010 Plus 1-Year Warranty Extension

Datalogic Service

( SKU: ZSWAL5002 )

Datalogic, Automation, Warranty, AL5010 Plus 2-Years Warranty Extension