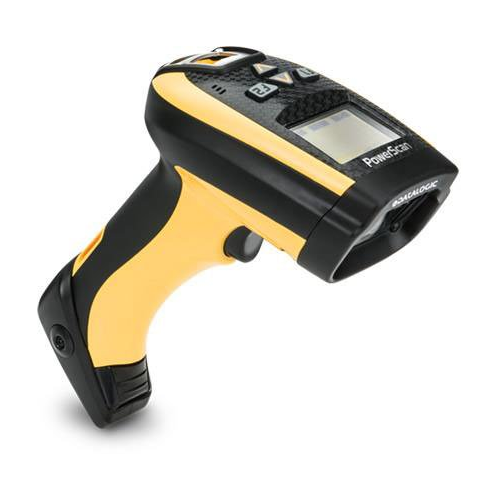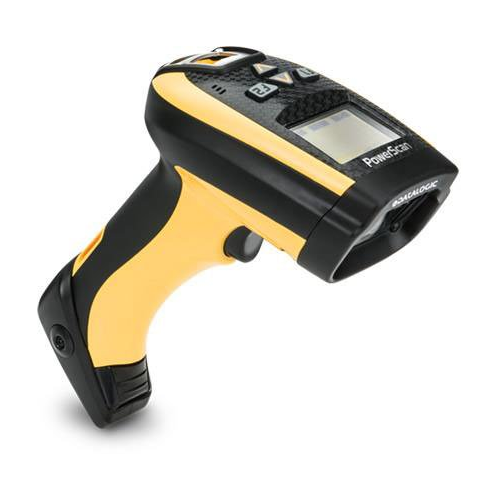 Datalogic PowerScan PM9300 Scanner
---
| | |
| --- | --- |
| Connectivity | Cordless |
| Scanner Type | 1D Linear Imager |
| Form Factor | Handheld |
| Scanner Includes | Scanner Only [No Cable] |
| Scan Range | Near/Far |
| Interface | RF Wireless |
| Durability | Rugged |
---
Product Highlights
Datalogic, Powerscan, 4-Key Display, Auto Ranging 910MHZ, Removable Battery, Cordless Scanner Only (Multi-Interface)

Spec. Sheet
---
Frequently Bought Together
Datalogic PowerScan PM9300
Industrial Handheld Scanners
PowerScan PM9300 The PowerScan PM9300 series includes different models able to satisfy all customers' needs
Overview
The PowerScan PM9300 series includes different models able to satisfy all customers' needs; the PM9300 is the basic cordless model, the PM9300-D intermediate model includes a display and 4-key keypad, and the ultimate PM9300-DK model features a display with a full 16-key keyboard. The PM9300-DK model significantly increases the sophistication of interaction with the host system and opens up new potential uses of the scanner, making it suitable for applications that would normally require a more expensive portable data terminal.
Narrow band radio communications with Datalogic's STAR Cordless System 2.0 provides the key to increased productivity and flexibility in the workplace. It offers scalable solutions from simple point-to-point applications to networking capabilities combined with seamless roaming for complex installations.
The PM9300 readers feature Datalogic's exclusive 3 Green Lights (3GLTM) for superior good-read feedback. The patented 'Green Spot' technology provides visual confirmation directly on the code and dual Good Read LEDs on the top and back of the cap add increased visibility at any angle.
Features
Drop resistance to 2.0 m / 6.5 ft
Point-to-point and multi-point transmission
Optics available in: Standard Range: contact up to 1.6 m / 5.2 ft Auto Range: up to 11.5 m / 37.0 ft on reflective codes
Ethernet Connectivity (Standard and Industrial) Seamless roaming
Datalogic 3GL and loud beeper for good-read feedback Radio frequencies available in 433 or 910 MHz
100% Compatible with Datalogic's STAR Cordless System
$20.02

Limited Availability
Datalogic Service

( SKU: ZSC2PM95BR1 )

Datalogic, PM/BT95 Base, 2 Days, Renewal, Comprehensive

Datalogic Service

( SKU: ZSC1PM95BR1 )

Datalogic, PM/BT95 Base, Overnight, Renewal, Comprehensive
Temp. Out of Stock;
Available to Order This item is currently out of stock. This manufacturer may have options with similar features. Contact us for lead time or another product that may work for you. If you place the order now, we will inform you when the item will be ready. You will not be charged until the order is ready to ship.