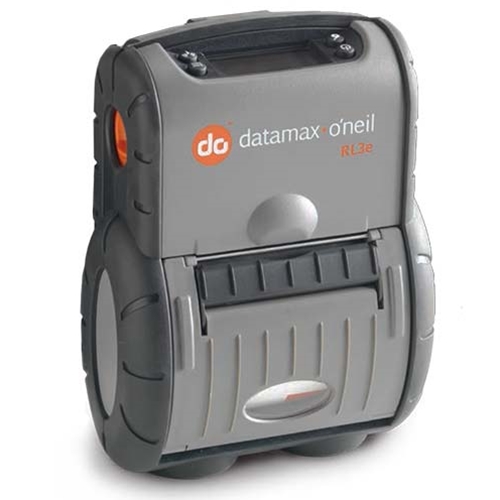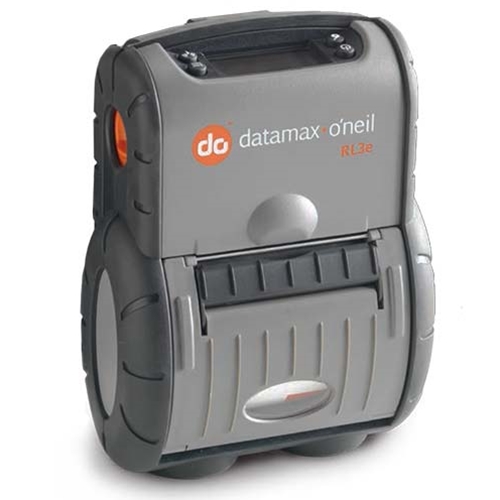 Datamax RL3e DT Printer [203dpi, with WiFi, Linerless Platen]
---
Printer Type

Mobile

Receipt

Print Technology

Direct Thermal Only

Interface

Bluetooth

Bluetooth 4

Bluetooth Low Energy

Serial

Wireless LAN

dpi (dots per inch)

203dpi

Core Size

0.75 inch

Printer Options

LCD Display

Linerless Platen

Max Media Width

3.0-3.9 inch
---
Product Highlights
Direct Thermal Only Portable Label And Receipt Printer, Datamax RL3e, 802.11/Bluetooth 4.0LE Dual Radio, 3-Inch Max Print Width, 203DPI, Linerless, 64MB/128MB, Serial/USB, E-Charge, LCD, Does Not Include Charger, (Communication Cables Sold Separately)

Full Specifications
Datamax RL3e
Rugged Mobility from Warehouse to Retail Floor
Datamax-O'Neil's RL3e (3-inch/76mm) portable label printer is designed to meet the most diverse mobile applications - from the recesses of the warehouse to the customer-facing retail floor and everything in between. Retailers will enjoy the flexible secure wireless integration into 802.11 a/b/g/n as well as the reliable gears and latches that keep it running for years to come. The RL3e offers Bluetooth® 4.0 + LE Dual Radio communications and built-in emulation for the most popular printer languages which makes it easy to integrate into an enterprise ecosystem.
The RL3e's long-lasting lithium battery can operate at peak performance for a full 8+ hour shift, while offering the durability to withstand the often rough-and-tumble environments mobile workers experience. The printer achieved the MIL-STD 810 drop standard -- 26 consecutive drops at 6 feet to concrete. And we include a 2-year warranty free of charge.
Connectivity options include 802.11 a/b/g/n and Bluetooth 4.0 LE Dual Radio or Bluetooth 4.0 LE(coming soon)
Get the Most for Your Investment
The RL3e has many outstanding features that offer equally outstanding benefits. Below is a brief list of the features you will experience using the RL3e printer.
Rugged and Reliable - With uncompromising standards, the RL3e endures even the most punishing environments, and passes the MIL-STD 810F drop testing requirements. The RL3e is so rugged it continues to print after 26 consecutive drops to concrete from 6ft (1.8m) even when tested at extreme temperature conditions.
Complete Line of Accessories - The versatile RL3e comes with a wide selection of charging and mounting accessories that allow it to be worn on the hip, mounted in a truck or even mounted and powered from a forklift operating system.
Easy to Integrate - The RL3e comes with popular language emulations that allow you to easily replace existing printers in the workplace. The printer is also compatible with most popular WMS packages and offers optional wireless 802.11 and Bluetooth connectivity.
Great Battery Power - The long lasting lithium-ion battery offers maximum power capacity for a full 8-hour shift, even under the toughest conditions.
Easy to Use - Nobody likes to change the paper roll, but we've made it so easy you can do it with one hand. We've also included an easy to read LCD screen with simple user interface buttons and a peel-and-present mechanism for quicker label application.
Complete Line of Media & Supplies - Our Certified Label Supply Program ensures optimum, trouble-free performance from the RL3e and guarantees the highest quality print output and image stability.
Two Year Warranty - Comes with the industry's only two-year standard warranty - twice that of the competition!
Excellent Mobile Device Management Tools (MDM) - Scripting Capabilities include LUA, JSON, SKyze, Qualsoft, and Airwatch.
Benefits :
Enable Operational Efficiencies - In many retail stores, workers travel to and from an office to pick up "batch printed" labels. While this method works, it also creates wasted movement and potential labeling errors which result in loss of revenue or confused customers. The RL3e eliminates the danger of "label mix up" by printing labels at the point of application. And since workers aren't wasting time traveling to a back office, they are more productive and free to help customers.
Improve Productivity - The RL3e is built to keep pace in a busy warehouse or retail store. Downtime is reduced when compared to other solution thanks to extra ruggedness, large media roll capacity and a battery that stays charged for a full shift and has some leftover for the next. In addition to these productivity gains the IT staff will enjoy easier integration due to its language emulation and secure wireless connectivity
Improve Customer Service - In today's tough economic times, every customer counts and you can't afford to lose a customer. Keeping your worker on the retail floor or in a warehouse longer tending to customers is possible with the unique design of the RL3e. Built with double wall construction, magnesium parts and a gear train designed for these environments keeps the printer working longer than many other solutions and is backed by the industry's only standard two-year warranty. In addition to this the consistent print quality and speed over a battery charge helps you to complete their transaction faster and produces the most legible receipt or label.
Temp. Out of Stock;
Available to Order This item is currently out of stock. This manufacturer may have options with similar features. Contact us for lead time or another product that may work for you. If you place the order now, we will inform you when the item will be ready. You will not be charged until the order is ready to ship.