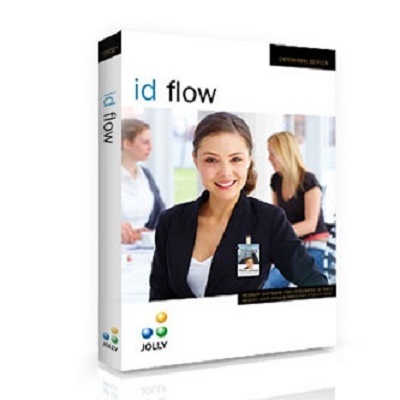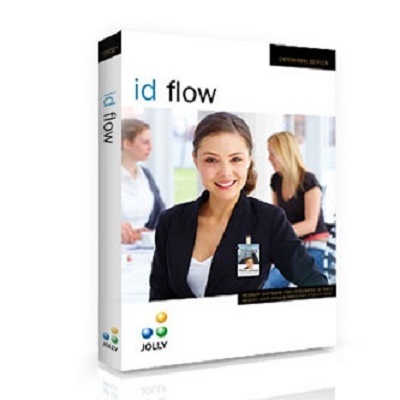 ---
| | |
| --- | --- |
| Software Version | Full Version |
| Software Users | Single User |
| Software Type | Download |
---
Product Highlights
Jolly Technologies, ID Flow Intro Edition
*This item is electronically delivered via email.

Spec. Sheet
Jolly Technology ID Flow Software
ID Flow is Jolly Technologies's industry leading ID software solution for the management and production of secure photo ID cards. As the software of choice for Fortune 500 companies, municipalities, K-12 schools and universities, ID Flow is perfect for organizations of all sizes. Built around an advanced record management platform that can integrate with existing HR systems and featuring a powerful card designer and an easy-to-use card production center, ID Flow provides unmatched productivity and fexibility.
Available Versions of Id Flow Software:
ID Flow Intro [ IF8-INT ] Photo ID Card Software for Small Organizations

ID Flow Standard [ IF8-STD ] Photo ID Card Software for Small-to-Mid Size Organizations

ID Flow Professional [ IF8-PRO ] Photo ID Card Software for Corporations and Institutes

ID Flow Premiere [ IF8-PRE ] Photo ID Card Software for Large Organizations
Complete Photo ID Solution
Use one of the pre-configured databases or connect live to your existing HR database
Design professional photo ID cards in the Card Design Center
Add text, logos, graphics, photos, signatures, biometrics, 1D and 2D barcodes and a magnetic stripe
Enroll, lookup and manage cardholder records in the easy to use Card Issue Center
Customize the enrollment process, optionally capture photo, signature and biometrics
Format and arrange fields on the record entry screen with drag and drop tools
Update records in real-time across multiple systems
Automatically capitalize data or apply other formatting
The ID Flow Advantage
Getting Started Is Easy
Create new cards in minutes using the new card design wizard. Configure card production by selecting a pre-congured profle.
Seamless Integration
Directly connect to any existing database via a live connection and integrate with existing HR, ERP, and access control databases without any importing, exporting or mapping of data. Print cards in the background from a third party or web application using the command line utility.
Easy Card Production
Quickly enroll new cardholders, capture photo, signature and biometrics, lookup and manage existing records and print ID cards one at a time or in batches using the Card Production Center.
Unmatched Design Tools
Design professional photo ID cards using the feature-rich design tools found in the Card Design Center. Automatically remove the background from photos and signatures, create your design using layers, use transparency effects, include 1D and 2D barcodes and a magnetic stripe. Add conditional elements that will only print when record conditions are satisfied.
Enhanced Security
Password protect design files, create user accounts, and define user roles to make printing and data management secure.
Feature Highlights
Design cards using powerful graphics and layout tools
Add text, graphics, photos, 1D and 2D barcode, magnetic stripes, watermarks and a lot more to the card design
ink the card design to any database, file based, server based, LAN / WAN, or ODBC / OLE DB in real-time
Add, delete and modify database information using the integrated database editor
Customize record screen with drag and drop tools
Capture photos from any TWAIN / WIA compatible camera and improve image quality using the integrated image editor
Capture photos using a Canon EOS Digital Rebel XS, XSi or T1i digital camera
Filter, format, and preview record information before card printing
Print UV layers for added security
Encode SmartChips and Contactless cards
Conditionally print card design elements based on record values
Design multiple card layouts within one template using conditional layers; automatically print appropriate card based upon database criteria
Search easily for specific cardholder information from thousands of records
Batch print groups of cards using a simple selection tool
Import and export records and photos
Add, manage and print ID cards using the simplified Card Issue Center
Background print from 3rd party applications and web sites via the Command Line utility with optional XML interface
Integrates with your access control system: Lenel, AMAG, S2, Brivo and more