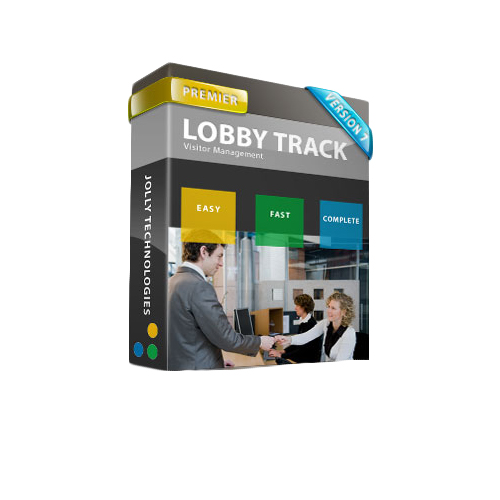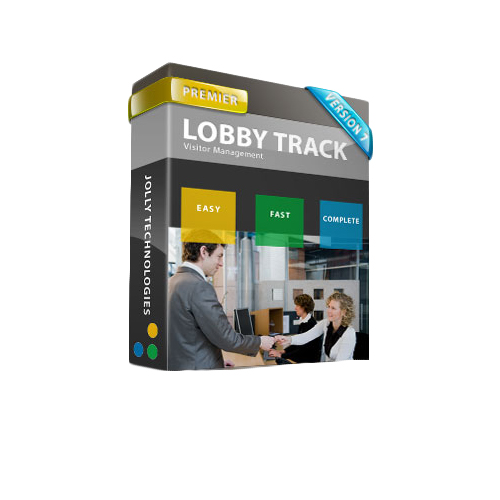 Lobby Track Premier Edition
---
| | |
| --- | --- |
| Software Version | Full Version |
| Software Users | Single User |
| Software Type | Cloud-Based |
---
Product Highlights
Jolly Technologies, Lobby Track Premier Edition
*This item is electronically delivered via email.

Spec. Sheet
Jolly Lobby Track
Innovative Visitor Management Software
Lobby Track is the world's leading visitor management and member tracking system, allowing organizations to register, badge and track groups of people at their facilities. Centralized management, networked data-sharing and reporting makes it easy to deploy across multiple stations and locations. Allow visitors to self register and check in and out at unattended kiosks.
Perform automatic, immediate background checks for enhanced security. The open data architecture allows easy integration with existing access control systems, HR databases and Active Directory.
Complete Tracking Solution
Track visitors, employees, students, members, contractors or any other group of people
Pre-register visitors online
Customizable self-registration kiosk mode with photo capture, NDA and other optional steps
Check against local watch list or perform online background check
Print expiring paper badge or plastic ID card
Add to access control system
Check in or out by swiping mag stripe or scanning barcode
Lookup records by entering personal information and print replacement cards
Calculate and export time and attendance data
View or print emergency evacuation reports
Create detailed logs, reports and charts
The Lobby Track Advantage
Visitor Management
Keep track of all visitors entering your facilities easily with Lobby Track's visitor pass creation and record-keeping capabilities. Create professional visitor passes, pre-register visitors online and run in kiosk mode for efficient self-registration.
Student Attendance
Lobby Track offers all of the necessary tools to manage student records, issue ID cards and track student attendance. Take class attendance by scanning ID card, mark students as absent or tardy. Automatically generate detailed attendance reports.
Membership Management
Track all members, staff, and contractors. Check in personnel by scanning badges and IDs and create logs for each group. Use charts to visualize peak facility usage hours and locations.
Time and Attendance
Each check-in and check-out event is logged. Capture additional information such as project, job and accounting codes. Lobby Track automatically calculates hours and attendance for each person. Export the data for use with your existing payroll system.
Entry / Exit Tracking
Control and monitor access to your facility. Configure flexible access rules, manage multiple groups of people, issue temporary or permanent ID badges and integrate with existing access control systems.
Professional Card and Badge Design
Design professional photo ID cards and visitor badges using an integrated version of Jolly's card design suite, ID Flow.
Feature Highlights
Scan driver's license, ID cards, and passports for fast and reliable data entry
Integrate with existing HR and access control systems
Use with mobile barcode scanners
Open and close turnstiles
Lookup host information in Active Directory / LDAP
Run in normal or unattended kiosk mode
Check registrant against local watch list
Perform automatic online background check
Configure check in rules
Check people in and out in the background while performing other tasks
Display on-screen messages
Automatically update record fields after registration, check in, check out and badge printing
Capture and log additional data such as project, job and accounting codes during check in and out
Log time and attendance with exportable data capabilities
Create detailed reports and charts such as visitor history and facility usage
Link and manage multiple locations
Customize record screens, change colors and field order, create pull down lists, date fields and more
Capture photos using a Canon EOS Digital Rebel XS, XSi, T1i or TWAIN / WIA compatible camera
Search for specific visitor or cardholder records from thousands of records using fexible search tools
Design cards and badges using the integrated card designer
Add text graphics, photos, 1D and 2D barcodes, magnetic stripes, watermarks and much more to the card design