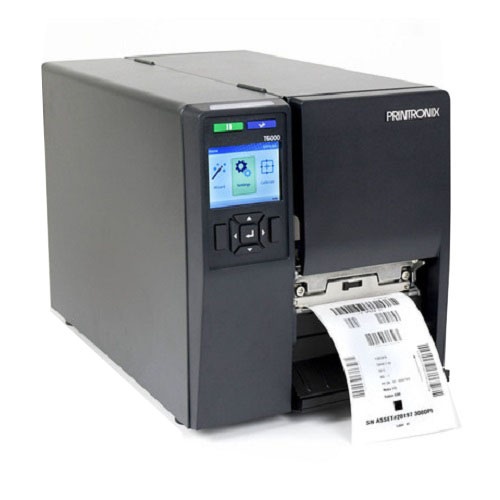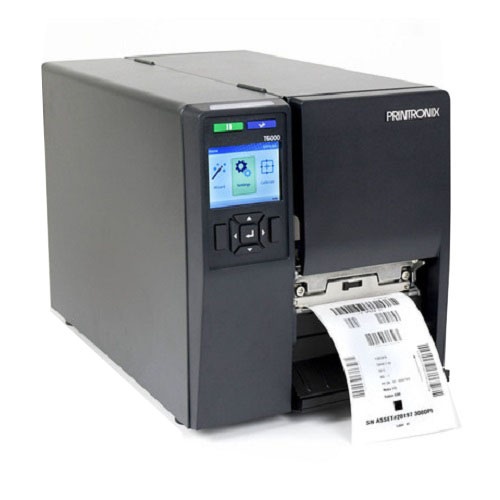 Printronix T6000e RFID TT Printer [300dpi, Ethernet, RFID Encoder]
---
Printer Type

Industrial

RFID

Print Technology

Thermal Transfer

Interface

Serial

USB

Ethernet

USB-A

dpi (dots per inch)

300dpi

Core Size

3.00 inch

Printer Options

LCD Display

RFID Encoder

Max Media Width

4.0-4.9 inch
---
Product Highlights
Industrial Thermal Transfer and Direct Thermal Printer, 4.1-Inch Max Print Width, 300 DPI, 3-Inch Core, 8-Inch, Ethernet Connectivity, RFID, Includes: Power Cable
Prints both
Thermal Transfer and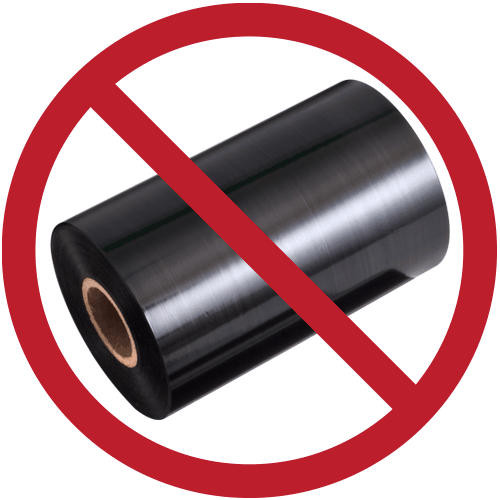 Direct Thermal

Spec. Sheet
Printronix T6000 RFID
HIGH-PERFORMANCE THERMAL PRINTER
The Powerful T6000 represents the next generation industrial, ?high-performance thermal barcode printer.
Setting new benchmarks for speed, print quality, validation and reliability, the T6000 is engineered with the singular mission of increasing true productivity and lowering compliance fees. Loaded with advanced features, validation technology, RFID capabilities and the most comprehensive emulation package available, the T6000 delivers supercharged performance for a wide array of applications.
Speed
Stellar quality print at lighting fast speed, clocking in at 14 ips
Increased productivity at every shift as a direct result of the ARM Cortex-A9 controller, processing barcode data faster than ever before
Ease-of-Use and an interactive screen reduces training and down time, helping your business focus on operational productivity
Versatility
Plug-n-Play in any operational environment, with the ability to be networked via the most comprehensive printer emulations in the industry
Rugged design allows the T6000 to perform in even the most challenging environmental conditions
Wide-ranging RFID support for On-Pitch, Short-Pitch and Standard Pitch to handle a variety of applications
Reliability
Exclusive validation solutions eliminate expensive compliance fees by producing 100% quality barcodes, 100% of the time
Comprehensive WiFi security suite featuring the very latest protocols to block unauthorized access and ensure peace of mind
Intelligent heat management system increases printhead life and improves barcode print quality while reducing operating costs
REAL WORLD BUSINESS APPLICATIONS THAT GIVE YOU THE EDGE ON YOUR COMPETITORS
With industry-leading validation technologies like ODV that support the latest compliance labeling requirements your supply chain is now fortified with cutting-edge traceability applications that also eliminate costly compliance fines
Easy integration in any legacy environment with full provisions for any Warehouse Management System helping you increase uptime and prevent loss of productivity
Powers through the most rigorous shifts while handling multiple label applications- from "Pick and Pack" support and cross-docking applications to labels for cases, pallets, packages, shipment slips, invoices, etc.
POSTSCRIPT/PDF FOR YOUR MOST COMPLEX LABELING NEEDS
The T6000 is engineered to support all major ERP systems
Plug-n-Play with native SAP drivers to expand your operational abilities
Full range of fonts and symbols gives you the tools required to customize your labels to suit your unique application and environment
PRINTNET ENTERPRISE AUTO ID:
Printronix Auto ID provides a unique remote printer management tool to monitor, configure and support printers from anywhere in the world
Instant email and mobile phone alerts allow you to mitigate issues or designate events in real-time, maintaining continuous network health and peak performance
Fully compatible with any Printronix Auto ID product
GENUINE PRINTRONIX SUPPLIES:
Our commitment to your particular application does not end at your printer. Instead, our promise of reliability continues throughout the life of your application and with every single printout. Genuine Printronix Supplies meet the stringent performance standards required by our printers and ensure optimum performance at every shift, every single day. With extensive manufacturing capabilities and multiple distribution points, our product experts can deliver custom solutions for a wide variety of applications.
PRODUCT BENEFITS
High performance ARM Cortex-A9
Die-cast aluminum frame w/metal door
Transfer and direct printing
4" and 6" model configurations
Premium Asian and Andale font support
State-of-the-art WiFi connectivity
Available in 203 DPI and 300 DPI
512MB RAM / 128MB Flash Memory
4-32 GB SD memory card capability
ENERGY STAR Certified