Printronix T6000e TT Printer [203dpi, Ethernet, Rewind/Peeler]
---
Printer Type

Industrial

Print Technology

Thermal Transfer

Interface

Serial

USB

Ethernet

USB-A

dpi (dots per inch)

203dpi

Core Size

3.00 inch

Printer Options

LCD Display

Internal Rewind

Peeler

Rewind/Peeler

Max Media Width

4.0-4.9 inch
---
Product Highlights
Industrial Thermal Transfer and Direct Thermal Printer, 4.1-Inch Max Print Width, 203 DPI, 3-Inch Core, 8-Inch, Ethernet Connectivity, Includes: Rewinder /w Peeler, Power Cable
Prints both
Thermal Transfer and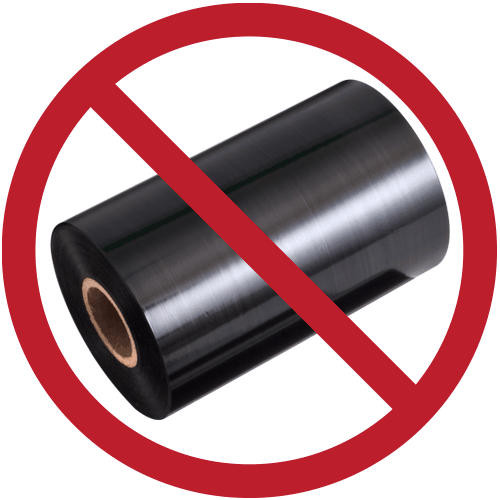 Direct Thermal

Spec. Sheet
Printronix T6000e
Industrial Thermal Barcode Printer
Printronix's new T6000e barcode printer is an upgraded version of their popular T600 printer series. The T6000e sets a new standard for productivity and versatility in fast-paced environments where speed, exceptional print quality and advanced features such as RFID are needed. The upgrades to their midrange platform not only include 600 DPI printing but also RFID on both the 4" and 6" models. In addition, not only does the T6000e support standard and on-metal RFID labels and tags, but Printronix has also significantly optimized the encoding and printing process making it ideal for high volume RFID applications.
Features and Benefits
Enterprise-Level Productivity
High-speed printing up to 14 ips
High volume printing up to 10,000 labels per day in demanding environments
Compatibility with SOTI Connect device management solution
Easy setup for RFID labels and tags with backwards compatibility for legacy T6000 RFID applications.
Ease-of-use and an interactive screen reduces training and down time, helping your business focus on operational productivity
Versatility
600 dpi for high-print quality labels (4" model only)
RFID print/encodes both standard labels and on-metal tags
Plug-n-Play operation
Nine competitor printer languages
Four RFID printer languages
Reliability
Solid metal-framed construction for reliable operation
Operates in wide temperature range; 23°F to 104°F (-5°C to 40°C)
Comprehensive WiFi security suite
Intelligent heat management system increases printhead life and improves print quality while reducing operating costs
The dual flexibility of being able to encode and print on-metal and standard RFID labels and tags makes it the ideal solution for RFID asset tagging of tools and equipment used in manufacturing, supply chain, IT, healthcare, and service yard industries. On-metal tags typically include a foam insulator and a metal foil backing that makes them incompatible with most standard RFID printer/encoders, but the T6000e was engineered to handle these media with ease. And, because accuracy is critical in every application, the T6000e will back-up and completely overstrike RFID labels that fail to encode properly. The T6000e is also backwards compatible with existing T6000 applications.
Created for the enterprise market, the T6000e is engineered for industrial applications such as manufacturing, automotive, transportation, retail, and logistics. For optimal productivity, the printer offers 14 inches per second print speed, high-quality 600 dpi printing, advanced RFID features, and a complete suite of connectivity options.
Like all Printronix Industrial printers, the T6000e was built on the Printronix System Architecture (PSA) platform that combines exclusive features with a common set of building blocks to simplify printer replacement/installation and improve productivity. The printer comes with nine printer emulations for easy drop-in installation and has a large LCD color screen for easy operation. The T6000e is also available with PrintNet Enterprise, a remote printer management tool.