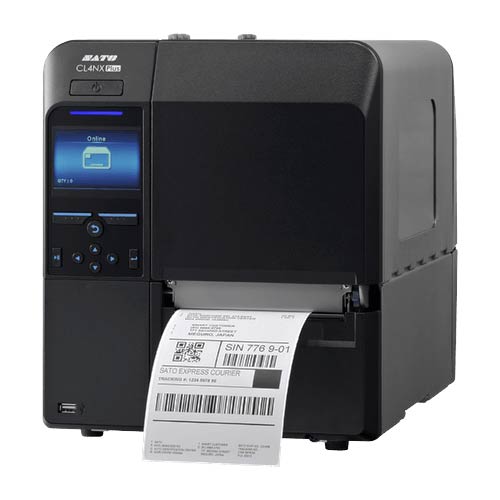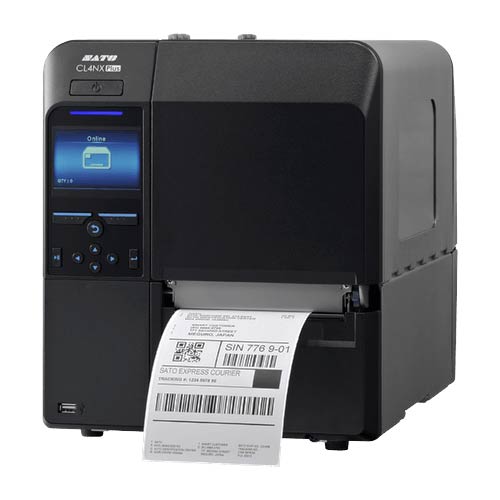 SATO CL4NX Plus RFID Printer
---
Printer Type

Industrial

RFID

Print Technology

Thermal Transfer

Interface

Serial

USB

Ethernet

NFC

Parallel

dpi (dots per inch)

300dpi

Core Size

3.00 inch

Printer Options

Real-Time Clock

RFID Encoder

Max Media Width

4.0-4.9 inch

RFID Frequency

HF
---
Product Highlights
Thermal Transfer and Direct Thermal Industrial Printer, SATO RFID CL4NX Plus, 305 DPI, 4.1-Inch Print Width, HF, Parallel, Ethernet, USB, Serial, NFC, External I/O, Includes: Real Time Clock
Make This Printer Bluetooth Compatible – PCB Bluetooth Kit WWCLP5A00
Thermal Transfer

Spec. Sheet
CL4NX RFID Industrial Thermal Printer
The CL4NX Plus Printer offers a vast array of standard features that are unequaled by its competition.
SATO's RFID CL4NX Plus Printer sets a new and innovative industry standard for ease of use, intelligence, on-board industry emulations, connectivity, speed of processing data streams, user activity interface, and so much more Businesses can save labor, speed up their operations and enjoy many advantages from using the CLNX Plus RFID Series of printers. These RFID Series of printers can print text and barcodes on UHF, HF and NFC tags/labels and encode data in their embedded chips at the same time. In addition to being equipped with on-screen menus that save users the trouble of adjusting antenna position manually, the printer is capable of checking RFID chips prior to encoding to verify their readiness to use and prevent failures. The CLNX Plus RFID Printers are rich in Benefits and Features. SATO RF Analyze (SRA) function optimizes the antenna and inlay setting automatically for fast and stable encoding. Users can now find the best settings to encode RFID tags/tags when their characteristics vary randomly due to lot differences or adjusting the write/read conditions as needed when encoding errors appear. Registering commonly used settings, can save up to 10 write/read tags/labels types. The user can now select and load these store settings to encode multiple media with the same printer. Having a compatibility with specialty RFID labels/tags supports the encoding of various RFID labels/tags including tags used with metals.
Features
60° Wide Print Head Opening with Pure Line Platen Roller - Best in class head opening of 60° will allow easier access to load media and perform routine maintenance. This Pure Line wear indicator on the platen roller provides a visual gauge as to when the platen needs to be replaced.
Micro Label Print Mode - Higher tolerance (+/-0.7 mm) for Increased print image accuracy when using small label sizes (<53mm length=).
10-inch OD Media Supply and 600m ribbon - More media per roll and longer ribbon lengths means less downtime replenishing supplies.
14 ips print speed at either 203 or 305 dpi - Up to 14 inches per second for fast batch printing. Best of class print speed at 305 dpi!
SATO RF Analyze (SRA) - Eliminate the guesswork and future proof RFID technology by using SATO RF Analyze (SRA) to optimize the antenna and inlay settings automatically to save you time!
SATO Application Enabled Printing (AEP) - SATO's Application Enabled Printing (AEP) Platform is a powerful on-board intelligence which enables customization of the printer operation to significantly simplify labeling operations and reduce business costs.
Sato RWG500 Label Rewinder

( SKU: WWRW55300 )

RWG500 Label Rewinder (Standard for 4-Inch Wide Printers), Compatible w/CL4NX, CL4NX Plus, & M84 Pro, Included Plate Will Not Fit the Footprint of the CL6NX - Contact Our Staff About Ordering Compatible Plate (3CF-RJP-6NX), Includes: Universal Metal Joining Plate for Compatible Printer Models