Custom Printed and Blank Labels
Unique labeling solutions
There are many ways to make a label cheaper, more efficient or more noticeable to your target market. Barcode Factory has the expertise to meet your label requirements at the right cost.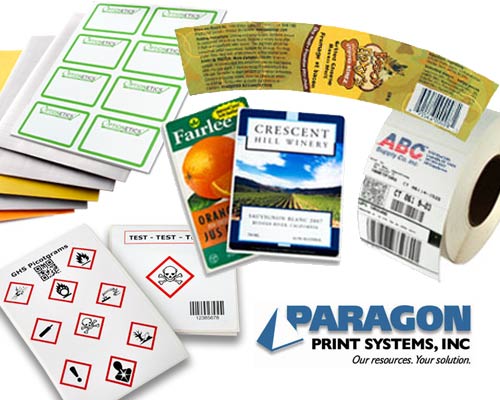 Full color labels attract and inform consumers about your product or brand. Our team of label experts provide innovative labels for every industry, and our diverse manufacturing capabilities are unmatched for full color labels, blanks labels with special features, or labels with one or more colors printed on front or back. Whether it's fast turnaround digital or long-run flexo, we have the technology to meet your custom label needs. Contact us for fast turnaround or for more information on our many services. Let us assist with management of your supply and distribution chain and lifecycle management of your labels.
Face Stocks
Over 200 stock materials from synthetics to a wide variety of papers, plus hundreds more from well-known label material manufacturers.
Adhesives
Including permanent adhesive, removable, ultra-removable, repositionable, and ultra-high tack adhesive, and everything in between. We have an adhesive for your label application, regardless of heat, cold, dry or wet.
Printed Colors or Blank
Barcode Factory offers virtually limitless color in digital or flexo, running up to eight colors in a single pass.
Coatings
We offer a variety of label coatings, including UV, gloss, matte & more.
Small and Large Volumes
Our short-run presses make production runs economical for custom labels as low as 100 labels. We have high-speed, wide-width presses to produce low-cost, long-run label orders in excess of 10 million labels per run or more.
Distribution
Our distribution and manufacturing locations are located throughout the USA to reduce shipping cost, deliver fast, and provide a wide variety of stocking options for our clients. We can manage your inventory and stock your custom project to insure availability.
Testing & Proofing
We offer a wide variety of test services to prove your concept. Let's get started by learning more about your labels or project. Please fill out the form, and we will contact you with any questions.
Label Material
Paper, synthetic, clear, retro-reflective and more
Adhesives
Permanent, removable, tire-adhesive, ultra-aggressive
Colors or Blank
Blank to six colors using flexo or digital printing
Coatings
Thermal transfer, direct thermal, UV, gloss, matte and more
Shapes & Sizes
Unlimited shapes, sizes, slits, and perforations