Mobile Device Management Services
Manage your device lifecycle
Installation & Configuration
We are a partner to many MDM service providers, including VMware's AirWatch and Soti Mobi. We can help you with your initial account setup, installation and configuration.
Management
Our device management tools can provide you with central control of devices within your corporate network, including data, security, applications, web activity and data transmission.
Deployment
Our tools provide assistance to enroll devices, manage device profiles, and deploy your applications to any OS.
Tools Allow You To:
Manage a diverse fleet of devices from a single console
Allow employees to easily enroll their devices
Enable secure access to corporate resources
Integrate with existing enterprise infrastructure
Support employee, corporate-owned and shared devices
Gain visibility across mobile device deployment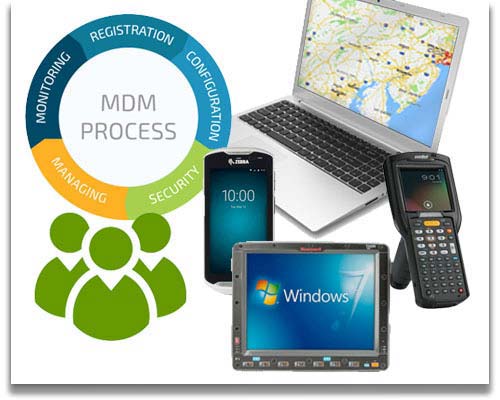 MDM Software Manufacturers
SOTI Mobile-

SOTI is a proven leader at creating innovative solutions that reduce the cost and complexity of business-critical mobility and the IoT.

SOTI is a proven innovator — clear vision, laser focus and a commitment to R&D has made them the market leader.

IVANTI-

Ivanti is changing the IT landscape by breaking down IT silos with increased visibility, shared data, and automated processes.

Enterprise IT departments use Ivanti to marry their ITSM, IT asset management, IT security, endpoint management and supply chain capabilities.

MOBIWORKS-

MobiWorks's vision was based on the emergence of the smartphone as a robust business application platform, providing compelling and unique features in a cost-effective manner.