Refurbished Barcode Label Printers
For Sale or Rent
Our primary business is the sale of new fully warrantied products, but many of our clients require short term rentals, or low cost reliable technology solutions. For these needs we offer a large quantity of high quality, certified refurbished barcode label printers.
Services for Refurbished Certified Barcode Equipment and Label Printers:
Rentals of Barcode Printers
Certified Refurbished Sales and Extended Warranty
Repair and Maintenance
Includes new print head and platen
Equipment Trade-in, Disposal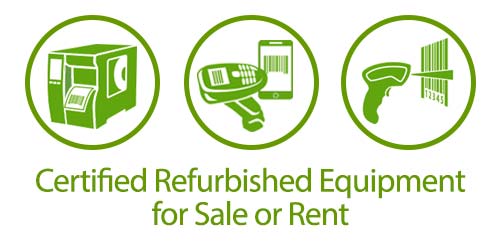 What is Certified Refurbished?
Our certified refurbished products include a 6-month warranty, with extended and very low cost comprehensive warranties available from 1, 2, 3 and 5 years additional. We are one of the largest repair facilities in North America with certified technicians for major thermal printer manufacturers.
Rent Equipment
For clients doing large temporary projects including conferences or inventory, we offer rentals from 1 week to months. Our Mobile Computer and barcode reader rentals include batteries and battery chargers. All of our rental equipment is quality checked and guaranteed to work 100% for your project.
Maintenance and Extended Warranty Programs
Our multivendor maintenance programs serve enterprises coast-to-coast with deployments of Auto-ID equipment like rugged mobile computers, barcode scanners and label printers. All depot repairs are done by factory trained technicians. Call us 888-237-8525 to request a Return Materials Authorization (RMA) number for repair.