Wireless Site Surveys
The future is all about connectivity
Our world has been transformed by the extraordinary rise in wireless network capabilities. From single-facility data collection requirements, to the sophisticated networking of mobility devices, BarcodeFactory has the experience to optimize your wireless environment.
Site Surveys State-of-the-art AirMagnet technology and industry-leading techniques are the methods used in conducting comprehensive wireless site surveys. Signal strengths, access point locations, RF interference, equipment requirements and all other key components of a 99.999% available wireless network design are collected and included in our delineated WSS report. A site survey will address your environmental factors that can impact your wireless coverage.
We offer a network of over 600 professionals to provide site surveys and installation services.
Detailed Hardware Requirements for Budget Allocation The site survey reports a complete breakdown of the hardware required to achieve a successful wireless network. We provide a complete analysis and a list of all hardware and cabling required for budget allocation. We conduct a survey with any wireless manufacturer's hardware in mind which is essential for the network design.
Wireless surveys display and record information from all key areas of a wireless network including received signal strengths, access point locations, RF interference and noise levels. This information allows us to report optimized locations access points, antenna's, AP transmit power levels and locations creating a more effective wireless network.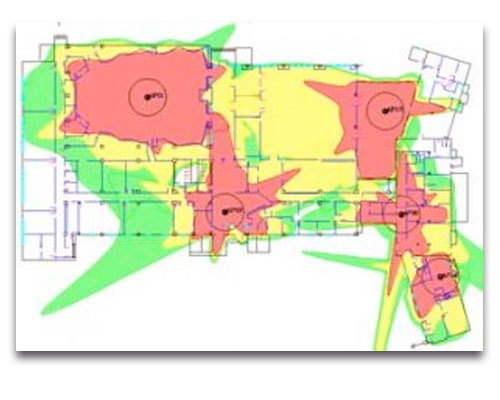 Spectrum Analysis / RF Interference A spectrum analysis includes the detection, measurement and recording of RF Interference. This interference could degrade the performance of your wireless network. Interference can be caused by legacy devices, microwaves, Bluetooth and other wireless devices. All can impact a wireless network.
We Measure ...
RF Interference
Measurement of SNR
RF power peaks
WiFi Channel interference
WiFi Channel Overlap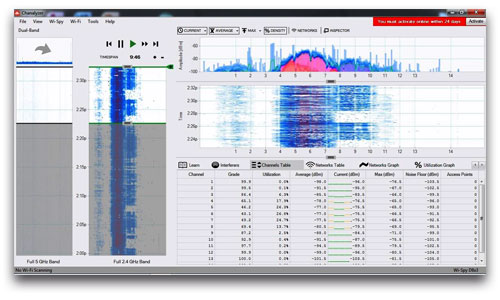 Wireless site surveys include the following:
Detect, measure and record the presence of RF Interference that could degrade performance of a wireless network
Calculate the WiFi supported data rates that can be expected throughout the premises
Define access point locations
Define wireless bridge locations
Determine antenna's and other wireless equipment requirements
Co-location of WiFi access points with channel selection and reuse.
Information such as; antenna selection, orientation and polarization.
Identify signs of, reflection, refraction, multi-path, hidden nodes, dead spots.
"Let us assist with an Indoor and Outdoor Wireless Installations"
Prior to your onsite visit, we will provide a quotation for time and materials for the survey. Contact us for a fast estimate.
Post Installation WiFi Survey The post installation WiFi survey proves the wireless design meets your requirements. Often times the environment that has been surveyed and installed, does not match your real-life conditions, which could include racks and products that are in place post installation. We provide post wireless verification using AirMagnet Survey PRO, which shows you the WiFi coverage of each wireless access point. Performing the post installation survey can be part of pour total package.
If you would like more information about a post installation WiFi survey, please give contact us.
Off Site Consulting Survey If an onsite visit is not possible, we offer a Consultation Site Survey based on a series of calls with our experts who use your site drawings to make recommendations for the transceivers' optimal positioning for adequate RF propagation.
Contact us to learn more or schedule your Wireless Site Survey.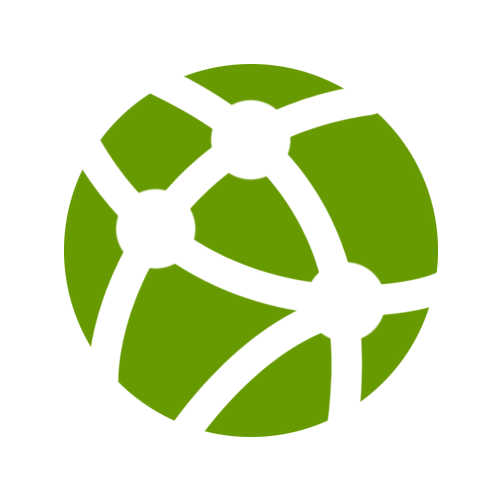 Networking Logistics
Need a Wireless Installation or Review?
Contact Us