Barcode Scanner Buying Guide
Choose the right scanner for your application
Basics
There are basically two different types of barcodes that can be scanned: One Dimensional (1D) and Two Dimensional (2D). One Dimensional, or linear barcodes, we the first to be used, hold a limited amount of information and are still common today. Two-dimensional barcodes can hold more information and offer expanded options in today's marketplace. Your next step should be to call a Barcode Factory Sales specialist at 888-237-8525.
1D Scanners
One dimensional (1D) linear barcodes (simple black lines) have been in use since 1974. 1D laser scanners were first developed to reflect light and bounce back information to the scanner. 1D or picket fence, linear barcodes (depending on the type) can only hold up to 25 characters.
2D Scanners
Two dimensional (2D) barcode scanners are called Area Imagers and take a picture of the 2D or 1D barcodes. The image is optimized for contrast and decoded to capture the information. 2D barcodes can hold up to 2,000 characters or more because they read horizontal and vertical information.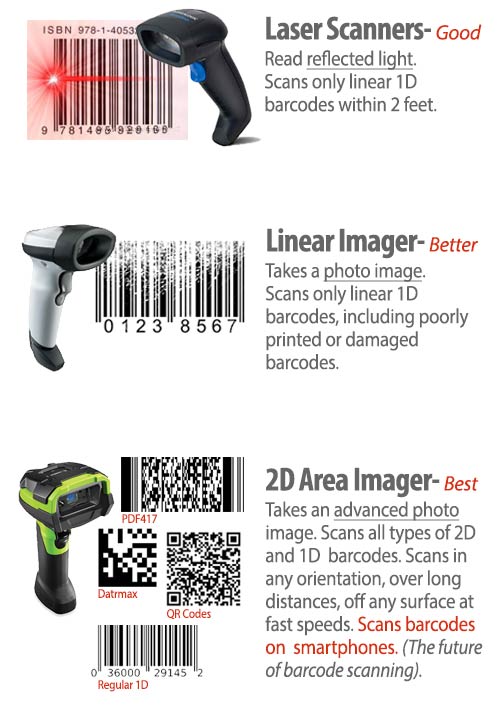 1D Laser Scanners
1D Laser barcode scanners are economical to purchase, however they are limited in scan ability at 2 to 24 inches away from a 1D barcode. The laser technology captures information by reflected light, quickly on barcodes that are not damaged.
1D Linear Imagers
1D Linear Imagers use CCD technology similar to a digital camera. This array of hundreds of light sensors capture and convert the image into data. These scanners can capture poor or damaged barcodes at greater distances than 2 feet in some cases. Basically, Imagers are a better choice than Laser Scanners for more aggressive scanning at nearly the same cost.
2D Area Imagers
Full 2D Area Imager captures a more detailed and intelligent image. They can capture a barcode in any orientation from over 3 feet away, reducing scanning labor. A 2D Area Imager can also read barcodes off of a monitor or a phone screen. Overall improved performance of these Imagers make them an intelligent choice for long-term and future scanning. 2D Area Imagers can read any type of barcode including 1D, stacked, 2D, including popular QR codes and many more.
---
How to Choose
Now that you know the difference between Scanner Types, you need to choose a Form Factor.
Your work environment, the scan distance, and the amount of scans you make each day need to be addressed. There are multiple options within each category from corded to cordless, battery-free or rechargeable. The fastest answer can be had by calling a Barcode Factory sales specialist at 888-237-8525.
Questions to ask
Environment- Retail store, factory, shop, warehouse. Do you need a rugged scanner?
What type of barcodes do you read?
Do you require a cordless or corded scanner?
How many scans per day? (determines the battery life you need)
Would a long distance range increase productivity?
Do you need multiple scanners with charge bases?
Would a quick-charge battery-free scanner be a benefit?
Will a ring scanner improve your pick-and-pack process?
---
Scanner Form Factors
Specific features of each scanner form include sound, vibration, green-dot light and the array of light projected by the scanner. We will help you determine which scanner will work best for your specific needs.

---
Handheld - Corded or Cordless
The most common scanner form is the Handheld. Simply aim the scanner at the barcode and pull the trigger. An audible sound and visual confirmation on the capturing screen are recorded. Corded scanners are typically connected using USB, Serial, Ethernet or Keyboard Wedge. Cordless models normally connect using Bluetooth or RF Wireless. Battery charging and wireless infrastructure are a factor to consider using these models.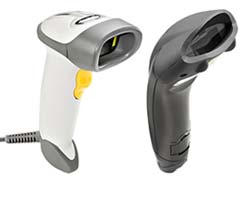 Rugged Scanners
Rugged scanners offer more than just a hard shell cover. Rated at IP-65 and above, some models are able to withstand drops to concrete of 5 feet. These devices are generally used in industrial applications and on forklifts with vehicle mount computers. They are built with an aggressive scan engine and come in a variety of models to match your scanning needs from close range to up to 65ft. Rugged scanners are capable of scanning in extreme heat or freezer applications. The new Zebra 3600 Series scanners will even capture scans underwater!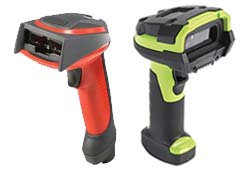 Ring Scanners
Pick and Pack operations, parts handling and quality checking all benefit from the ergonomic ring scanner. Designed to scan at close range very quickly with little physical effort, these scanners are either wireless or use a tethered connection to a wrist-mount mobile computer. Most ring scanners are imagers that can scan 2D barcodes, but some linear and laser models are also available. Two-finger and glove mount models that will accommodate both left and right-handed usage are also available.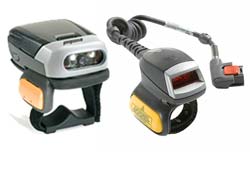 Fixed Scanners
These scanners are integrated with a large automated system to scan barcodes on their own in a fixed location, typically on a conveyor belt or a kiosk. Fixed mount scanners like the Motorola MiniScan, work well at assembly lines in both low speed and high speed models.
Presentation Scanners
Designed to sit on a counter-top and do not need to be picked-up or held. Presentation scanners are made for hands-free scanning and do not require triggering to read. These scanners have wide reading areas to reduce the need for aiming. These types of scanners are used at retail check-outs since it is easy to scan many items quickly. Simply present the barcode in front of the scanner and it will automatically read the barcode.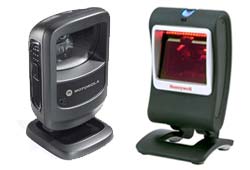 In-Counter Scanners
Most commonly seen at the grocery store, the specialized In-Counter Scanner is integrated with an automated system. These scanners are made to be mounted into conveyor belt systems or self-check outs. The multiple scanner array in these models reads barcodes presented either vertically or towards the base. Fixed scanners come in a wide variety of speeds to accommodate high speeds of scanning.