Fixed Dimensional 3D Scanner
AutoCube 8200 Dimensional Scanner makes package measuring simple
The Honeywell AutoCube 8200 is an affordable and revolutionary way to measure length, width and height of packages to determine a Dimensional DIM weight. UPS, FedEx and the USPS now uses the DIM weight to determine their cost to ship packages. The AutoCube 8200 system uses 3D depth sensing technology to instantly and accurately measure the dimensions of an object and sends that data (with or without) a .jpg image to your computer. The dimensioning system consists of the dimensioner mounted on a stand and connected to a host computing system through a USB interface.
This optimally priced dimensioning system provides quick return on investment for applications where the previous alternative was a tape measure. Manual tape measurements resulted in lower accuracy, inconsistency and reduced productivity. The AutoCube 8200 system increases accuracy, consistency and user productivity in multiple use cases – increasing revenue capture, reducing shipping chargebacks and throughput bottlenecks, and optimizing storage space, workflow and load planning.
The device is mounted to a pole and placed facing a scan-area. The pole can be mounted to a table or the floor and comes with a 59" and 70" pole. AutoCube sends a captured image to your computer and automatically calculates the DIM weight. An optional 7" USB display can be mounted to the pole for instant visual confirmation.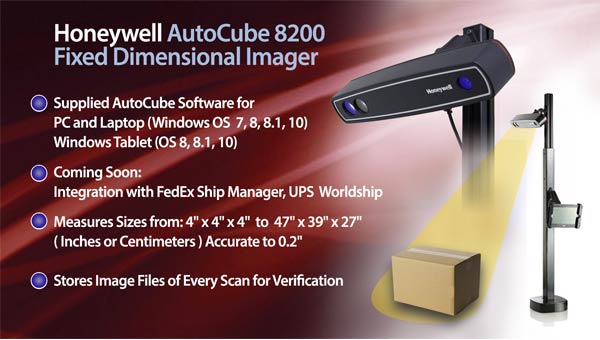 Features
AutoCube 8200 measures packages from 4" x 4" x 4" up to 39" x 39" x 39" either manually or automatically, with and accuracy of 5mm or 0.2 inches. The device requires a 6 ft. to 8 ft. area, with ample lighting to capture the entire package. AutoCube will also measure odd shaped products stacked together to determine a shipping box size. AutoCube is affordably priced for small to large distribution centers.

Benefits
The labor cost and potential mistakes that occur from manually measuring packages can be eliminated by using the AutoCube. Accurate and automatic measurements reduce shipping chargebacks and reduces throughput bottlenecks. The AutoCube captures images of each object measured along with a timestamp information to enable verification of customer claims regarding shipped packages. This information can then be used to optimize multiple workflows within your distribution center.

Connectivity
The AutoCube 8200 connects to your PC or laptop using Windows OS 7, 8, 8.1, and 10. Windows XP, Linux and Mac OS are not supported. Minimum PC hardware requirements are Dual Core Processor, 2 GB RAM 64 bit OS and USB 2.0 HS connection.
Specifications
Temperature Range -10C to 40C
Interface- USB 2.0 interface
Power Supply- powered through USB, no power supply needed
Computing Platform- PC or laptop Windows 7, 8, or 10
Table Mount or floor mount.
For more information or to enroll, please fill out the form or call us at 888-237-8525.