Zebra Ultra-Rugged Scanners - 3600 Series
The Zebra 3600 Family of Ultra-Rugged scanners are quite exceptional. These scanners go far beyond just having a rugged casing. Their features were designed to work in every harsh environment there is. There are five different 1D/2D DS- models designed to meet your specific target application as well as two Linear laser scanners.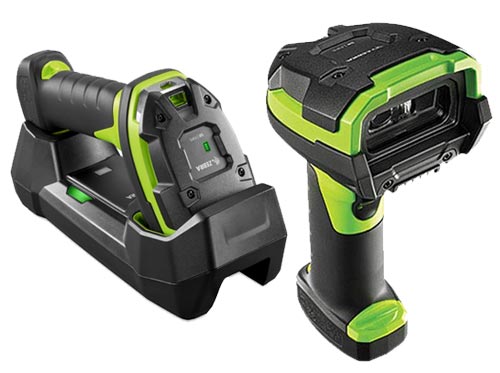 Quick View of Features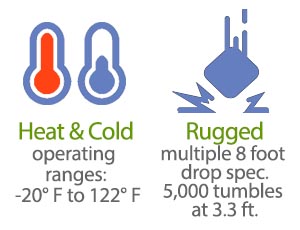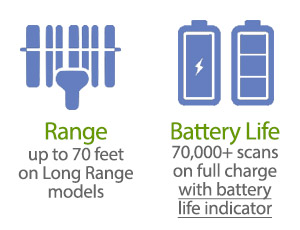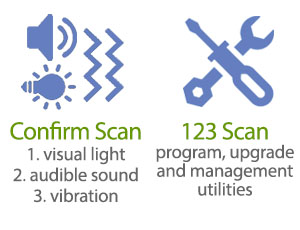 Amazing Features
This 2-minute video describes the amazing features of the Zebra 3600 Ultra-Rugged Scanners.
Zebra 3600 Series Family
The future of scanning is 1D/2D, with entire shift battery life, no moving parts, guaranteed scan confirmation in any environment all enclosed in a bullet-proof holder. All you have to do is determine which model fits your application. From 70 foot scans to small electronic barcodes, there is a member of the 3600 family to fit your needs.
Tell us about your application, and we wsubheadingill send you a recommendation.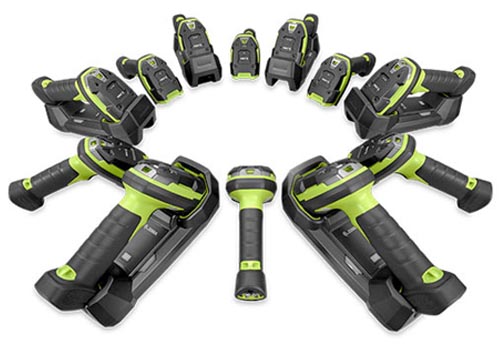 ---
1D/2D
Standard Range
Scanner
Designed to capture virtually any barcode from near contact to as far as 5 ft./1.5 m away, these ultra-rugged scanners are loaded with features that deliver truly unstoppable performance. The corded DS3608-SR and cordless DS3678-SR ultra-rugged 1D/2D handheld scanners provide the ultimate in versatility. PDF Specifications
1D/2D Digital Scanners
Applications
Superior Data Capture for Large Items on Loading Dock for Shipping and Receiving.
Proof of Delivery
Image Capture
Industries
Warehouse Management.
Manufacturing
---
1D/2D
Extended Range
Scanner
Designed to capture any 1D/2D barcode from near contact to as far as 70 ft./21.4 m away, The corded DS3608-ER and cordless DS3678-ER ultra-rugged 1D/2D handheld scanners provide incredible performance. PDF Specifications
1D/2D Digital Scanners
Applications
Picking
Forklift Applications
Warehouse/ Distribution
Transportation Cross Dock
Industries
Warehouse Management.
Manufacturing
---
1D/2D
High Performance Mid-Range
Scanner
Superior capture of 1D/2D barcodes, photos, signatures, OCR data and documents; complete with processing to provide a sharp, legible image. The corded DS3608-HP and cordless DS3678-HP ultra-rugged 1D/2D handheld scanners provide the ultimate in versatility. PDF Specifications
1D/2D Digital Scanners
Applications
Superior Data Capture for Large Items on Loading Docks for Shipping and Receiving
Proof of Delivery
Image Capture
Industries
Warehouse Management.
Manufacturing
---
1D/2D
High Density
Scanner
Advanced capture of high-density 1D/2D barcodes common in electronics manufacturing. The corded DS3608-HD and cordless DS3678-HD ultra-rugged 1D/2D handheld scanners provide the ultimate in versatility. PDF Specifications
1D/2D Digital Scanners
Applications
Electronics Manufacturing
Medical Equipment
Telecom
Industries
Warehouse Management.
Manufacturing
---
1D/2D
Direct Parts
Scanner
Advanced capture of high-density 1D/2D barcodes common in electronics manufacturing. The corded DS3608-HD and cordless DS3678-HD ultra-rugged 1D/2D handheld scanners provide the ultimate in versatility. PDF Specifications
1D/2D Digital Scanners
Applications
Lifetime Identification (UID)
Track and Trace
Maintenance Management
Warranty Service
Product Authentication
Auto/Aerospace/Defense
Industries
---
Advanced 1D
Standard Range
Scanner
The practically indestructible 1D LI3608-SR corded and LI3678-SR cordless scanners are ready for the world's toughest environments including the warehouse and manufacturing floor. PDF Specifications
1D Laser Scanners
Applications
Near field 1D Reading
Shipping and Receiving
Small Item Pick and Pack
Manufacturing WIP
Industries
Warehouse Management.
Manufacturing
---
Advanced 1D
Extended Range
Scanner
Designed to capture virtually any 1D barcode from as close as 2 in./5.1 cm to as far as 56 ft./17.1 m away. The corded LI3608-ER and cordless LI3678-ER ultra-rugged 1D handheld scanners provide the ultimate in versatility. PDF Specifications
1D Laser Scanners
Applications
Picking
Forklift Applications
Warehouse/ Distribution
Transportation Cross Dock
Industries
Warehouse Management.
Manufacturing