Automotive Vehicle and OEM Parts Labeling
Ultra-durable labels for every part of a vehicle
Tough label conditions exist on every part inside and directly on an automobile or sports vehicle. Barcode Factory offers custom UL, ULC, ISO certified Automotive Grade labels. These labels are designed to withstand applications including high temperature engine labels, battery labels, windshields or automotive component labels. Our materials withstand exposure to UV, chemicals, dirt, grease and oils.
BarcodeFactory custom and stock labels for the Automotive Industry
Our label experts will help you choose the correct adhesive and face stock required for each specific part of a vehicle. We offer pre-printed labels with durable varnish for UV and chemical protection, as well as silkscreen printed labels.
Automotive Labels Products
Battery Labels with pick holes
Custom printed or blank labels avaialable
Full color with overlaminates
Customizable sizes, shapes and materials
Silkscreened labels for ultra-durable life span
UL® and ULC certified materials.
Safety and Warning labels for any surface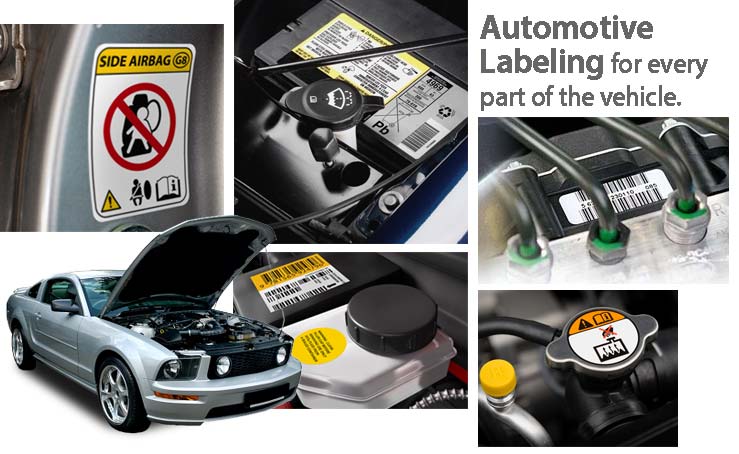 Automotive Labels carry critical information ranging from operational data to identification, safety and more. Our automotive grade labels withstand demanding environments where extreme high and low temperatures and exposure to engine oils, antifreeze, brake fluid, physical wear washing can damage the labels and adhesive. Our labels have exceptional durability and will last in this environment for many years.
For more information or to enroll, please fill out the form or call us at 888-237-8525.