BS5609 Compliant Labels
Why do you need a BS5609 Compliant Label?
BS5609 is a durability specification for chemical drum labels being used in maritime environments. BarcodeFactory can provide compliant labels and ribbons combinations along with a complete printing system. A maritime environment is defined as prolonged exposure to saltwater, both immersion in salt water and abrasion from salt water.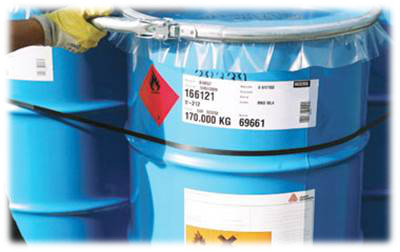 Why is BS5609 Compliance important?
Drums, as well as other types of containers, are used to transport hazardous materials such as solvents, paint, petroleum products, chemicals, and hazardous wastes. Each of these containers must have a GHS label providing information about the contents and their associated hazards. When these containers are being shipped by sea, the GHS label must be able to survive exposure to salt water spray for extended periods of time. Because containers can be swept off ships during storms, or as the result of an accident, the GHS labels must also be able to survive immersion in salt water for up to three months, as well as abrasion resulting from contact with sand and rocks.