Craft Beverage Labels
Beer, Wine, Coffee, Spirits, Cider, Kombucha; Whatever you bottle.
Craft Beverage Labels Craft beverage markets includes includes beer, wine, spirits, cider, mead, kombucha, and coffee. Many consumers make buying decisions based on packaging. Giving your product a strong shelf presence in this extremely competitive environment, is key to your success . We offer state of the art print and finishing capabilities and extensive experience with beverage labeling. We can assist in branding, test orders and even signage and large format graphics to complete your marketing efforts. We assist you from start to finish to compete in this market. Let us help you achieve the a strong shelf presence.
Try us out
Tell us about your project. Need sample labels? Help with your label design? Questions about how to begin a promotion or campaign?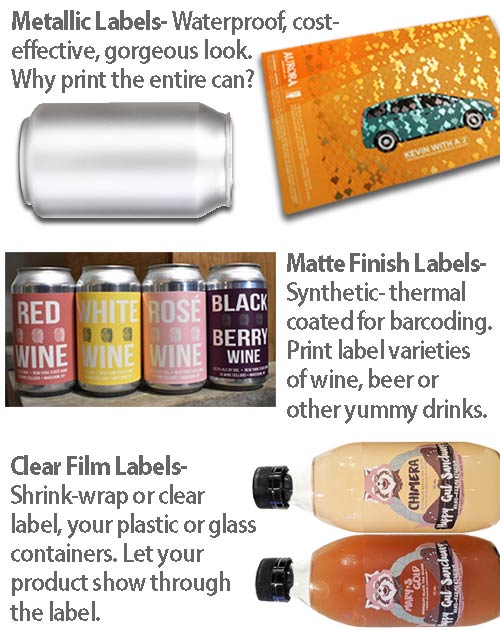 Applications- We utilize digital, flexographic, screen and wide format presses. This gives us the ability to print any type of beverage label, or graphics and signage to complete your promotions.
Products-
Bottle Labels
Can Labels- Multiple face-stock
Shrink Sleeves
Clear Labels
Direct-to-Object Printing
Box/Packaging Printing
Label & Barcoding Equipment
Retail Signage
Window Graphics
For more information or to enroll, please fill out the form or call us at 888-237-8525.