Custom Electronic Component and Circuit Board Labels
Labeling Systems designed to print anti-static and high temperature labels.
The Electronics Industry has relied on Barcode Factory for years to provide thermal printing systems that meet all of their electronic component labeling needs. The small size of these labels often requires a 600 dpi printer to meets the requirements of printing very small text, barcodes and numbers. We carry several models of Industrial and Desktop thermal printers that have precise print alignment for printing labels from 1/10 inch and larger.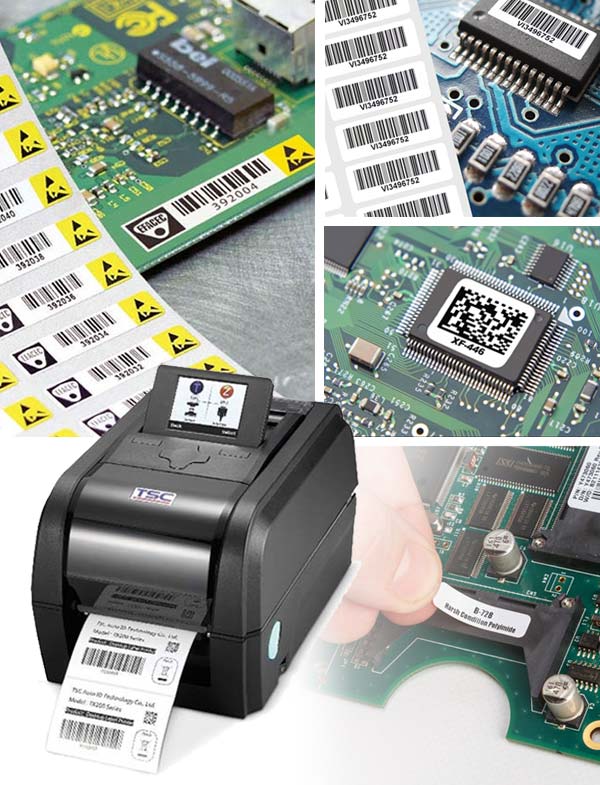 Label Compliance & Material
Electronics and PC Board Labels demand the right material for your products success. Our labels meet UL and CSA standards as well as RoHS compliance for lead free solutions. They conform to EIA regulations and MIL STD 130. Polyester is the most common material used for high temperature up to 300°F and gives an excellent print surface for small text. We offer Kapton and other Polyimide label materials for higher temperature requirements. Polyimides Labels are resistant to extremely high temperatures and chemical exposure for surface mount, wave solder and electronic product Identification. Our site offers multiple varieties of sizes from .17 inch up to 3 inches wide.

Thermal Printers for Electronic Labels
Maintaining exact positioning on labels that may be as small as 1/4" x 1/4" and up to six wide across requires a precise alignment ability and setting on the printer. High resolution printers with 600 dpi print heads are available from our partners at TSC, Zebra, Honeywell and Sato. We will help you find the right printer for your application.

Custom Printed and Stock Labels
We carry a large variety of stock labels and can also provide pre-printed labels with color backgrounds, or barcodes and text. Our thermal transfer electronic labels rolls are delivered ready for your thermal printer. We also offer in-house customized sequential printing to save you the time.
For more information or to enroll, please fill out the form or call us at 888-237-8525.