Custom Laser Labels
Custom sizes, slits, perforations and printing on sheets of laser labels
Find your custom printed or blank laser or inkjet labels at the best pricing. We manufacture laser labels with special slits, perforations or shapes. We offer adhesives and face stocks on custom laser labels for any application, including labels that withstand moisture or chemicals. Unsure which material you may need or how to meet your labeling requirements? Check out our Stock Laser and Inkjet Labels, or contact us with your questions.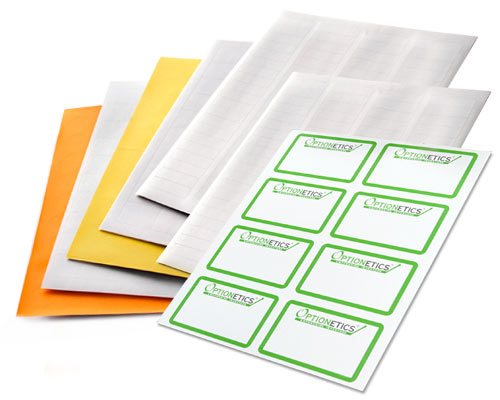 Material
100's of face stock materials from synthetics to a wide variety of papers from well know label mills.
Size
We can make any size laser or sheet label for your application.
Adhesives
We have an adhesive for your label application, regardless of environment including heat, cold, dry or wet. Adhesives include permanent, removable and high tack.
Shape
Pick from thousands of stock square, circle, oval or rectangle shape dies or order your own custom shape. The die will be available for future reprints.
Coatings
Laser or inkjet coatings. All guaranteed to work with your sheet fed printer.
Small or Large Volume
Our short run presses offer economical pricing for amounts as low as 250 custom laser label sheets. We manufacture economical long run jobs too with high speed wide width presses.
Testing / Proofing
Contact us for options to test or prove your concept. We offer a wide variety of test services.
Distribution
Our distribution and manufacturing are located throughout the USA to reduce your shipping costs, and speed-up delivery.
Warehousing
If your label quantities require it we offer warehousing and distribution on demand. Save space and always have a guaranteed label supply.
Compatibility
All of our labels are compatible with your laser or ink jet printer.