LPN License Plate Warehouse Labels
Preprinted warehouse labels, pallet labels, and more
LPN is the common acronym for sequentially numbered labels that allow you to track moveable units in a warehouse, such as cartons, pallets, bins or cases. License Plate Numbers (LPN) are a primary method of tracking and identifying everything that moves in or out of your facility. These labels are sequentially numbered and can be used in single tag or dual labels that wrap around the corner of cases, making them easy to identify.
Matching Your Needs
The labels we produce are made to meet your application process, environmental and quality requirements. Our volume production enables us to offer great pricing on low-grade to high-quality paper face stocks, all with permanent adhesives and crisp barcodes. Barcode license plate labels are offered on printed rolls in single, single twin, single dual, dual twins or sheeted. Color preprint portions of the label are also popular to help improve productivity. If your labels require verification with printed records, we can help you comply.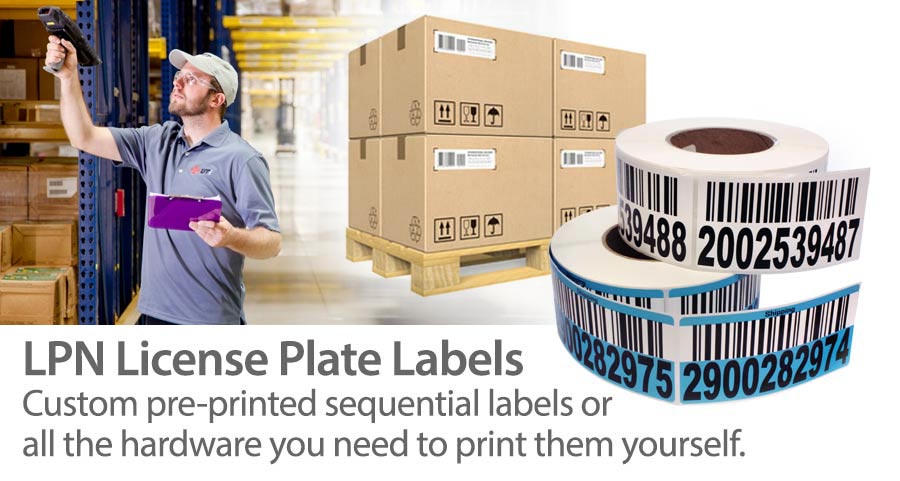 License Plate Number (LPN) Labels & Sequential Barcodes
Printed Rolls
Singles – Simple rolls of sequentially numbered labels, customized to meet size, specifications and lot break-downs
Single Twins – Two identical labels printed in sequence, next to each other or after the other. Commonly used on multiple smaller bins, pallets or crates
Single Dual – Also called corner labels. One wide or long printed label with duplicate information that has a die-cut notch for easily folding over the corner of a case. Very easy to identify the carton
Dual-Twins – A label with two sets of content, each presented with an exact copy next to it on the roll. Popular in large distribution centers to label all four sides of the pallet
Sheeted
Supplied as die-cut labels in single, dual and with matching layouts, depending on the sizes required. Can be packaged in your desired lot requirements.
Stock Hold for Quick Delivery
We work with many of our larger customers to print and store their labels at our facility. We ship immediately when you need them, making sure you never run out.

Benefits of LPN Warehouse Labels:
Lower overall labeling costs vs. in-house printing
Save time, expense and frustration of in-house printing
Custom color choices
Clear, readable and guaranteed barcodes