Multi-Part Label Sets
Custom Multi-Part Labels (Label Sets)
Manufactured on rolls or sheets and on a wide variety of different label material and adhesive combinations, a multi part labels function as a "set" of labels with combined uses. Multi-part label sets are an efficient way to link common information to a "set" of different sized labels. Common use are: Asset Tracking, Multi-part Product Labeling, Inventory Control, Work Functions in Progress, Legal/ Medical Records Tracking or Security Measures. Label Sets are a safe and efficient and cost-effective way to mark just about anything.
Multi-Part Label Options Multi-part labels can be pre-printed, with barcodes or variable data, or blank. These labels can have special size and shape labels contained within 1 sheet label. Available in direct thermal, thermal transfer, laser, or inkjet label material.
We can include face slits, perforations, and slits on the liner. Let us help you with your work flow to determine the best label construction. We carry a huge variety of labels types, sizes, coatings, colors and custom imprinting that can all be applied to your custom multi-part labels. Save your time by calling a Barcode Factory representative first 888-237-8525.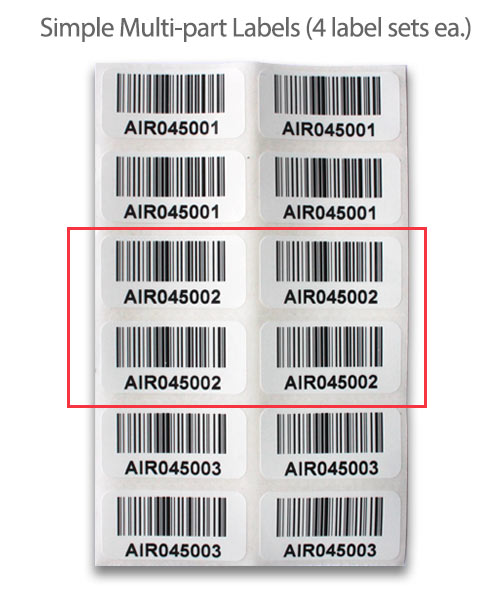 Simple Multi-Part Label Set- Multiple labels per roll allow for a simple repeat of four barcodes with human readable labels. Labels are then printed in a sequential numbering system.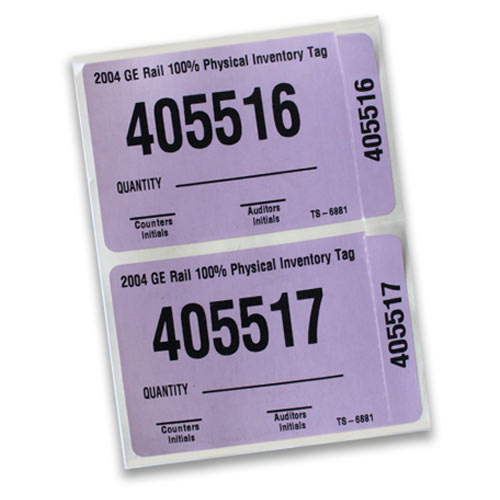 Multi-Part Label with Tabs- This sequentially printed label has a corresponding product code number for placement on a marking sheet to physically record the larger label has been applied. A vertical perforation is used to create the tab.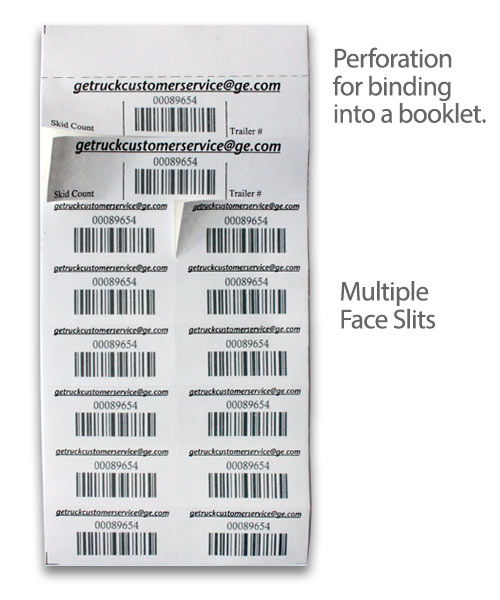 Booklet Label Sets- Here multiple labels have been face slit out of one large label. These label sheets are perforated at the top and bound into a booklet.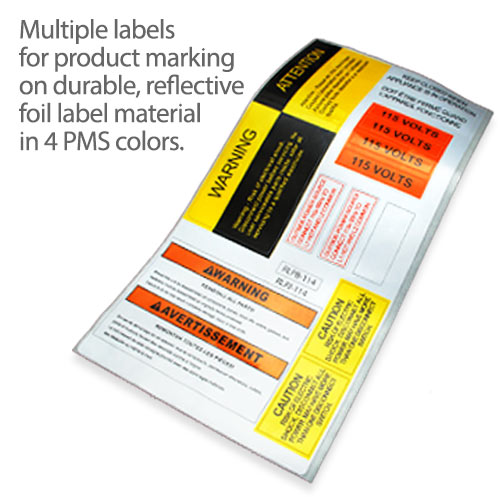 Multi-Part Label Marking- This 6 in. x 12 in. custom printed label is die-cut into 13 separate labels used to mark multiple areas of a product. This label was printed in four PMS colors on foil label material for durability and water resistance.
For more information or to enroll, please fill out the form or call us at 888-237-8525.