Identify your Product with NamePlates
We give you a wide variety of Nameplates High-Temperature and Caustic Environments.
• Available in Aluminum, Brass, Stainless Steel and Plated Alloys
• Can be Printed, Etched, Anodized or Sealed Photo-metal
• Thicknesses range up to .125"
• Indoor or Outdoor Use
• Unlimited Color Choice
• Engineered adhesive backings
• Abrasion, oil and chemical resistant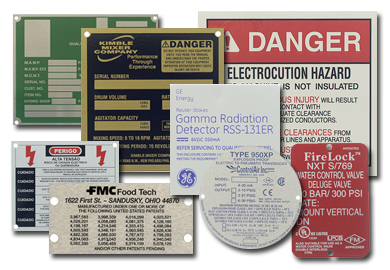 Materials for Creating Nameplates:
Stainless Steel - etched or screen printed. Available in thicknesses from .012" to .125"
Aluminum - Thickness availability ranges from .003" to .250".
Photometal - Photometal is photosensitive anodized aluminum, also referred to as photo anodized aluminum. This provides a silver halide image that is permanently sealed within the anodic layer, making it resistant to chemicals, heat, abrasion, salt spray and UV.
Brass - Brass nameplates offer a classic finish that is aesthetically pleasing. Widely used in cosmetic applications such as retail displays, building identification and logo signage. Available in thicknesses ranging from .020" to .125", brass is also a favorite in the military, marine, and general industrial markets because of its durability and appearance.
Unique Identification Nameplates and Labels (UID) - UID is a part identifier containing data for tracking items throughout their life cycle. Data such as enterprise identification classifies the manufacturer, supplier, depot, program management office or third party and is assigned by a registered issuing agency. (i.e, DUNS Number, UCC, Cage Number). The identifier and its corresponding serial number eliminate any possibility of duplicate numbers and provide permanent identification.

Businesses worldwide trust us for their nameplates, decals and industrial marking needs. We offer value added services, from concept to design, to finished product. Let us help you find the right product for your industrial marking application.

Capabilities: Thermal Transfer Industrial Labels - Decals - Domed Labels - Industrial Labels - Cable and Pipe Marking - Screen Print Labels - Etch and Fill Nameplates - Plastic Tags - Laminated Labels




BarcodeFactory offers Name Plates We offer stock sizes or can manufacturer any custom size at low quantity and very competitive costs. Send us your file to imprint your variable barcodes on your signs. We can imprint and even install your labels or signs.

Call us or email and tell us about your Name Plates labeling project.