Placard Label Holders for Reusable Totes or Racks
Synthetic label placards for totes, racks or containers offer easy removing of labels.
Plastic bins, containers, racks drums and products can get messy after a dozen labels have been put on and ripped off over and over. The simple solution is to apply a base Placard Label. This synthetic base label creates an area for future labels to be applied and removed easily many times. Yes the labels stick and stay to the placard base but also tear off easily when needed. Our reusable placard label holder is a surface designed for labeling and relabeling any reusable surface. See our stock placard label holders or call us for a custom size. Our custom typically costs much less than our competitors stock.
Removable Adhesive?
The special hold/release technology coating on placard labels can receive any type of label with a standard adhesive, saving the cost of printing labels with removable adhesive. Remember most removable adhesive eventually becomes permanent over time.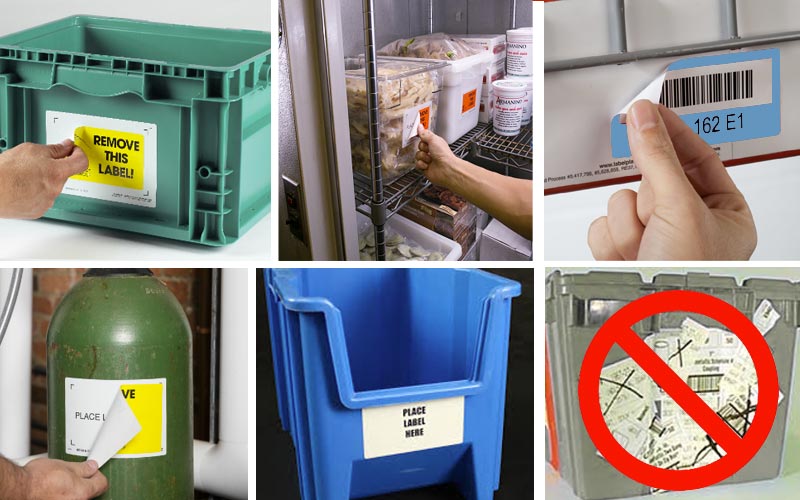 Custom or Stock- Contact a Barcode Factory representative for a quote on stock or custom placard labels as well as the over labels to place on the placards. 888-237-8525. Our custom placards made in any size for you costs less than most stock.
Features
Easily remove and replace many labels
Adheres to a wide variety of surfaces and temperatures
Customize your placard label size, shape or instruction verbiage
Accepts most standard permanent label adhesives
Uses
Hard plastic hand-held containers or bulk bins
Part trays or bin trays
Warehouse racking, plastic skids or product containers
Metal tanks or or gas cylinders
Food storage containers for hot, cold and freezer environments
For more information or to enroll, please fill out the form or call us at 888-237-8525.