Proposition 65 Warning Label Requirements
Prop 65 requires businesses to notify Californians about chemicals in their products.
Barcode Factory can help you label your chemicals
California's Safe Drinking Water and Toxic Enforcement Act of 1986, is better known as Proposition 65. Proposition 65 requires the State to publish a list of chemicals known to cause cancer or birth defects or other reproductive harm. The list chemicals is updated annually and currently contains over 800 chemicals.
Proposition 65 requires businesses to notify Californians about significant amounts of chemicals in the products they purchase, in their homes or workplaces, or that are released into the environment.
Prop 65 Labels
These warning labels and tags can be found on many categories of products, including electrical wires, jewelry, dishware, flashlights, plumbing fixtures and pesticides, to name just a few. We can help you maintain compliance with our labels or tags. Contact us for a price quote.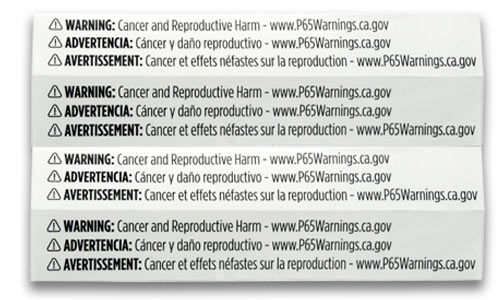 Prop 65 Warning Label Size Requirements
New requirements include a warning label to be on any consumer product. Prop 65 warning label size requirements are as follows:
Letters and characters have to be rendered in a minimum 6-point type. It cannot be any smaller than the largest font size utilized in other consumer products.
The warning must feature an exclamation point in black outlined by a yellow triangle, and the word "WARNING" must also be featured and printed boldly in capital letters.
The warning has to feature the full name of a listed chemical a minimum of one time.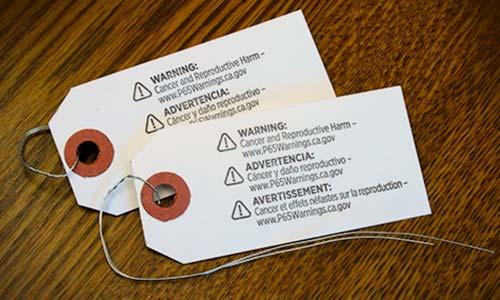 Prop 65 Warning Tags Labels warning that a product contains compounds that may cause cancer, birth defects, or reproductive harm are now required on many household items sold in California. We manufacture prop 65 labels and prop 65 tags in any size, color or quantity, and provide adhesives that meet any standard or rugged labeling requirement.
For more information or to enroll, please fill out the form or call us at 888-237-8525.