Vanity UPC Barcodes
Make your label even better. We create, test and supply you custom barcodes
Vanity Barcodes are a combination of a unique graphic design incorporated into a UPC barcode that simply portrays your product(s) in a clever way. The impact of Vanity Barcodes has been very positive in recent years, as major retailers have incorporated custom UPC designs into their product. Unique UPC Barcodes can enhance your brand image and make them stand apart from the competition. UPC barcodes are most often customized however, barcodes such as Code 128, and ISBN book codes can be augmented to brand the company identity.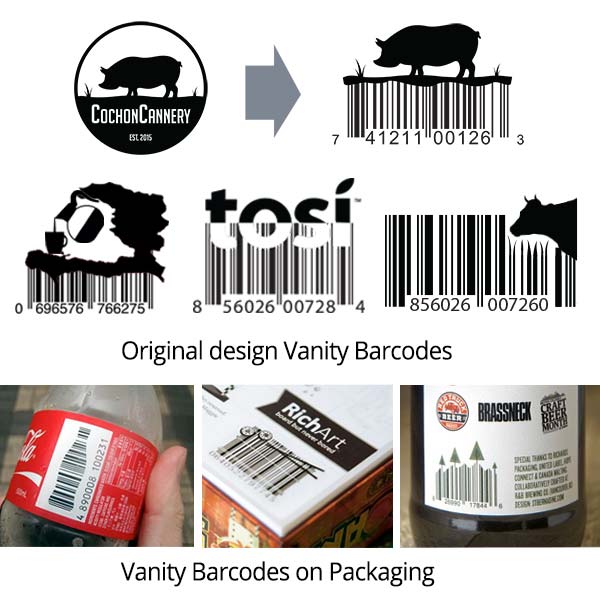 How it works
Send us information about your company/product(s) and we will estimate a cost based on creating one initial design, (this cost averages from $350 to $500).
If you have multiple UPC barcodes that use the same design the cost per each is lessened. If you desire multiple unique design for each barcode the price will be similar to your first design. Finished files are supplied in full vector Adobe Illustrator formats.

For a Fast Quote-
Call and tell us your needs 888-237-8525
We will need your website, product description and logo
A copy of your current label including exact sizes
What it's being applied to and the size of the container(s)
Bulleted Item 3 (use bullet icons you created)
Not just a pretty picture Since your barcode is how your product is purchased, it had better work. Size and shape do matter when designing a vanity barcode, as well as the shape of your container. UPC codes labeled on bottles can be tricky depending on the diameter of the curve. Small 10 ml jars only have a small scanning area. We will always ask you for a sample of your label so the vanity code will work inside your design. If we can't, the label may need a adjusted. Our experience with food labeling gives us the edge when designing consumable retail product labeling.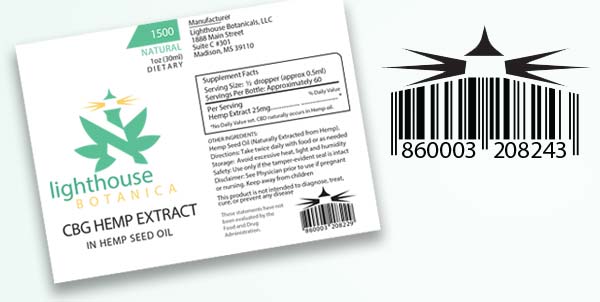 Complete Label Design Don't have any label art yet? We can help you there. We have created product labels for many industries from coffee and wine to CBD oils. As a label company we look at your label from a usability perspective so it not only looks nice but works easily with no delayed scanning. Call us for an estimate of our art-time, label design and custom label printing.
For more information or to enroll, please fill out the form or call us at 888-237-8525.