Variable Data Labels
Custom Printed Labels with Variable Imprinted Data
Pre-numbered labels with or without barcodes, available in rolls, sheets with multiple labels or individual cut labels. We offer consecutive sequentially numbered labels in any material from paper to synthetic and adhesives from standard permanent to ultra-aggressive adhesives. Sequential imprinted or UPC barcodes printed on any label material in a variety of color.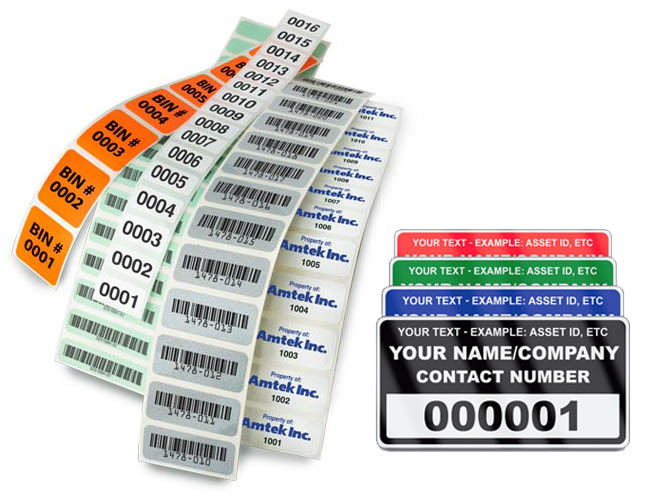 Labels for Any Environment
Our labels can hold up to any environment. Whether it is a standard paper UPC label, or a label with variable data that requires UV and chemical protection, we have a label solution.
Sequential Rack Labels- We understand the demands of the warehouse environment. Organizing your stock can be as easy as multi-colored rack labels with sequential barcodes in 1D or 2D. Rack labels are durable synthetic face stock with permanent or removable adhesives and large barcodes for easy scanning. We offer custom printed rack labels or can supply you with stock material for your thermal printer.
Rack Label Types
Standard Barcode Labels- permanent or removable adhesives
Multi-colored Barcode Labels
Retro-Reflective Labels- this ground glass material is highly reflective and can be scanned up to 50 feet.
Magnetic Labels- printed directly to magnetic material make for easy removal.
Placard Rack Labels- placard labels create a removable base for any label that needs to be replaced regularly.
Tags for plastic inserts- plastic pouches will hold paper tag material for easy and regular replacement.
For more information or to enroll, please fill out the form or call us at 888-237-8525.