Label Handling Equipment Guide
The purpose of label or tag handling equipment is for your processes to run smoother, more efficient and most important - more cost effectively. There is a wide variety of equipment to select from. Here you will find a detailed list and description of basic label handling equipment.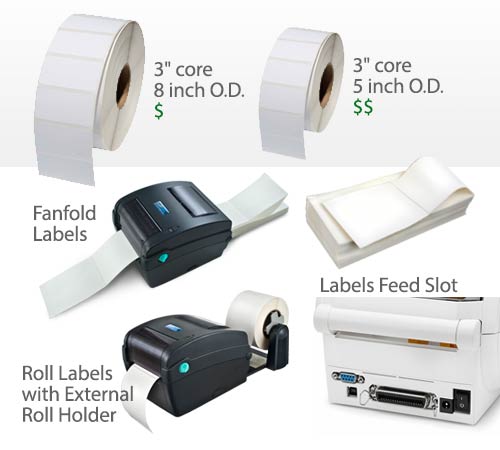 Label Handling Basics
Most desktop thermal printers will only physically hold a maximum outside diameter roll size of 5 inches. Six to twelve inch O.D. roll labels are more economically priced.
Most thermal printers come with an open slot in the back to feed larger rolls from an unwinder or fanfold labels.
Roll labels or Fanfold? Fanfold labels require no roll and simply print and refold themselves. Roll labels require an external or internal rewinder with one empty spool. Let us help you plan how to handle your labels ahead of time, from printing to applying, we have what you need.
---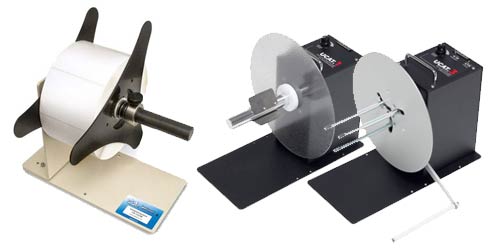 Unwinders
Almost all printers have an external feed source in the back of the printer. Label Unwinders help hold roll label material (up to 12 inches) as the printer pulls it in. Options include no adjustment for breaking or adjustable frictionless breaking on Non-powered units.
Powered unwinders hold a tension on the label as it is being released with a built-in Sensor Arm technology. The unwinders can be set to match your print speed exactly, eliminating any strain on your printer. Unwinders allow users to purchase larger core size material. This reduces the cost of the labels typically by 30% or more and also reduces the number of roll changes, increasing operator efficiency.
---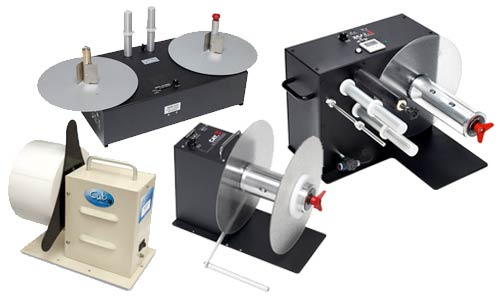 Rewinders
Rewinders save time by rewinding material into clean and uniform rolls. If you are printing entire rolls you will need to collect those labels. These motorized units apply a constant adjustable torque that keeps the labels uniform and wound perfectly. Rewinders fit various core sizes, roll diameters and label widths.
Rewinders are often used to move labels from one roll onto another for custom quantity rolls. A counter feature can also be available to count labels from one roll to another.
---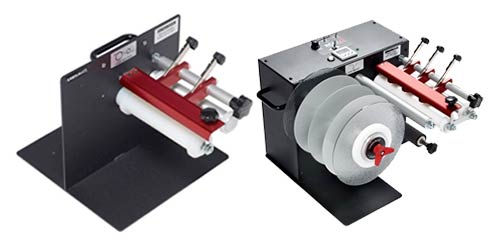 Slitters
Label Slitters are a quick and easy way to slit multiple-across label rolls into single rolls. For inline slitting, the Stand-Alone unit can be placed at the output of the printer allowing you to slit the labels as they are printed. Combining the slitter with a Rewinder allows you to slit large pre-printed multiple across labels into several rolls.
---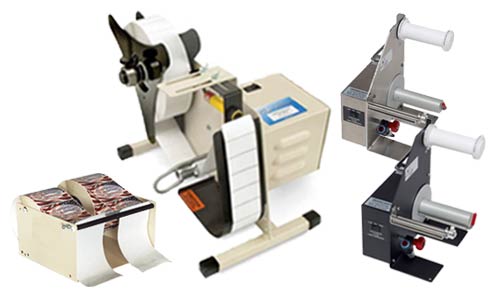 Dispensers
Labeling products by hand can take a lot of time. Label Dispensers use a peeler arm to separate the label from the backer and collect the liner. Automatic Dispensers hold 3 in. core labels and feed them to the user. An electronic eye advances each label after one is taken and presents it partially peeled for hand application. This frees up the operator and speeds up label application.
---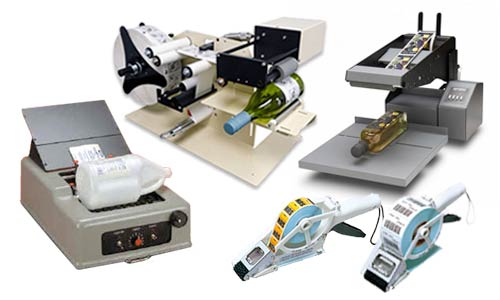 Applicators
Semi-automatic Label Applicators increase production speed dramatically. Labels are automatically placed onto the product as the product is inserted into the jig.
Glue based applicators are a unique alternative to traditional labels. These devices pull from a pool of hot glue and wrap a non-adhesive label onto a cylindrical product. They are great for larger labels and reduces label printing cost significantly. This process is typically used for containers or small volume full color non-adhesive labels which are lower in cost than pressure sensitive color labels.
Hand held applicators can range from retail style for small price labels to larger labels for industrial use, where applying is done with a click of the label gun.
---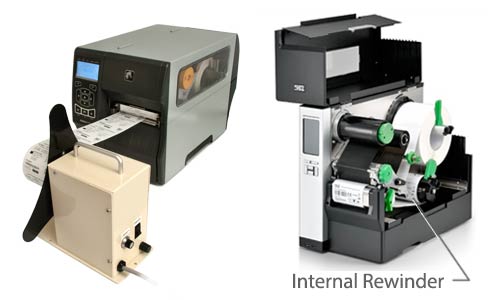 External vs Internal Rewinders
Certain industrial printers are equipped with an internal rewinder as opposed to an external rewinder. The TSC is one example and performs exceptionally. The maximum roll O.D. is 8 inches on the TSC MH240P, MH340P, MH640P.
Contact us for details or with questions about any of our label handling equipment.