Mobile Labeling Carts - Newcastle Systems
Industrial, All-day, Powered Workstations that Save Thousands Compared to Fixed Label Printers
Newcastle Mobile Receiving Stations are labeling systems designed to save wasted steps, increasing productivity and improve the flow of product or goods through your business. These mobile workstations bring the process of scanning, computing label printing and barcode verifying wherever the work needs to be done.
Newcastle Quality
As a leader in the mobile cart industry, Newcastle Systems has created a line of cart systems, powered by unique and hot-swap batteries, that can run 24/7. Built to hold desktop or industrial printers and used in multiple different industries.
---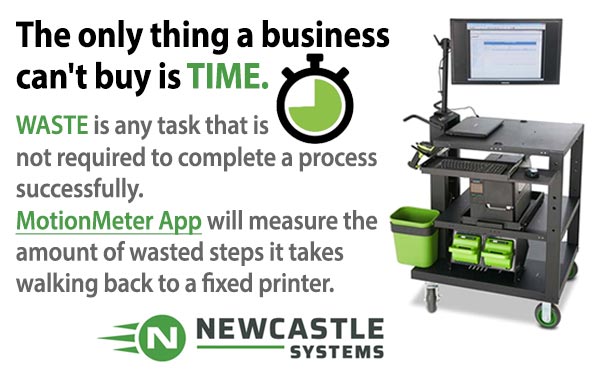 Efficiency by the Numbers
These numbers are based on 6 years of data from actual customers to show real-world results.
63% Increase in Receiving Volume
30% Increase in Picking Rate
90% Reduction on Labeling Errors
$7,500 Reduction in Labor Costs per Operator
75% Reduction in Overtime
---
MotionMeter App
The MotionMeter App is a free, user-friendly app that enables users to quickly perform time studies by capturing the time of core processes within their business. This helps to determine which steps of the process are necessary (Value Add) or waste (Non-Value Add). The app is available for both Apple and Android devices.
Download App from Apple
MotionMeter Measures
Walking to a printer to print labels
Walking to a computer to access data
Walking to a static desk to dimension product
---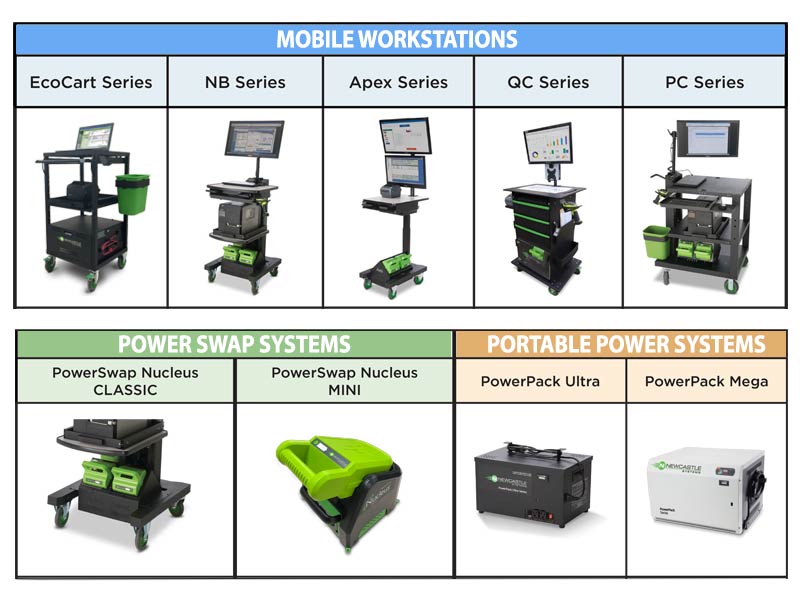 Download Complete Comparison PDF
Mobile Workstations
Multiple versions of Newcastle mobile carts offer different levels of battery life suited for desktop or industrial size printers and different configurations of shelves and attachments. All custom-built here on the USA. See All Carts here.
Power Swap Systems
Choose a battery power systems that power all of your devices, scanners, printers, laptops, and monitors. Batteries with a 3-year warranty and typically last 5 to 7 years. See All Power Swap Systems here.
Portable Power Systems
Our portable power systems can be used with on other competitive carts, depending on their durability. See All Portable Power Systems here.
---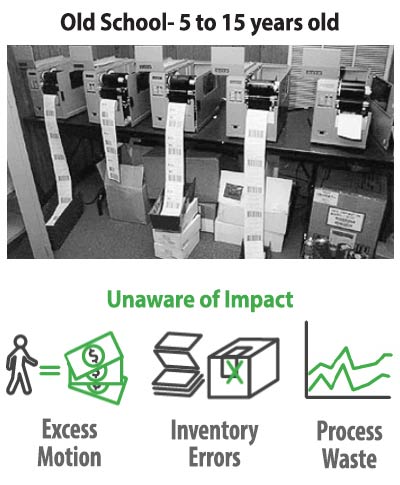 Excess Motion
Averaging 20 minutes/hr of extra motion raises the hourly wage from $18 to $24 per hour.
Inventory Errors
Inventory errors are frequent from mixed labeling issues as a result of batch printing.
Process Waste
Efficiencies and metrics are low as a result of waste in the process.
---