Interfaces
The interface is how the host generating the print job communicates with the printer. It's important to know how you intend to connect to the host so you can make sure the printer has the appropriate interface installed ahead of time.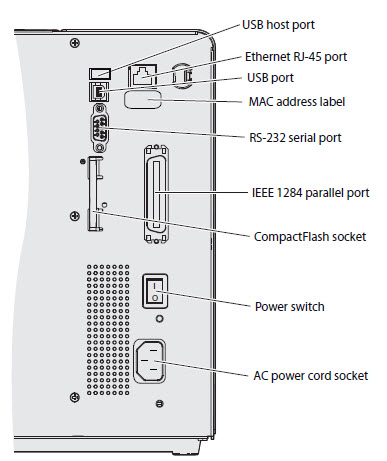 Parallel
As a general I/O port, an IEEE 1284 parallel port is a simple, efficient choice. With parallel printers, graphical data and even large amounts of non-graphical data can be handled without buffer overflow or information loss. This method supports the transfer of more data at a faster speed than the older RS-232 serial standard.

Serial
RS-232C communication may have limited transfer speed, but it's still a reliable method of communicating with a peripheral device. Serial communication will often suffice when printing simple receipts without graphics. Graphical printing is better suited to IEEE 1284 or USB communication protocols.

USB
Serial is limited to about fifty feet, while parallel is limited to about fifteen feet. USB allows you to connect up to 127 devices to a single PC from as far as 82 feet away. USB version 1.0 offered data transfer rates between 1.5-12 megabits per second (Mbps). The recently introduced "Hi-Speed USB" available in USB version 2.0 offers data transfer speeds of 430 Mbps.

Ethernet
Ethernet has become the most common method for connecting thermal printers. With this method, the printer serves as an actual device on the network, complete with its own IP address. Putting the printer on the network eliminates many of the limitations of other interfaces. Modern ethernet is significantly faster than serial or parallel, and with a maximum cable length of 328 feet (100 meters), the printer is free to be placed wherever it's needed. As a network device, the printer is also available to any host on your network, so long as they have the right permissions.

Wireless Ethernet
Taking it one step further, the printer can be fitted with a wireless network interface. This allows the printer to connect to an existing 802.11 wireless network. This is very useful for printers that are used at different stations (rolling cart, for example) or printers utilized at locations where running cables would be impractical.

RS-422/RS-485 Serial
The RS-422 and RS-485 serial interfaces were the standard for connecting multiple devices over long distances. There are still a few high-end printers that support them.
Coax/Twinax
Coaxial and twinaxial cables, also known as coax and twinax cables, are military-spec cables used for transmitting data. Coax cables are versatile and work best for low-frequency signals, such as radiofrequency. Twinax cables provide a clearer, better protected signal due to having two conductors, but require short range and high speed.