Real Time Locations Systems
Real-time location systems, (RTLS), are a group of technologies that detects the current geolocation of a targeted item. These targeted items could be a product, vehicle, building or person. RTLS is not hampered by distance, ambient noise, metals, line-of-site or liquids like RFID. This makes RTLS a new and promising tracking method.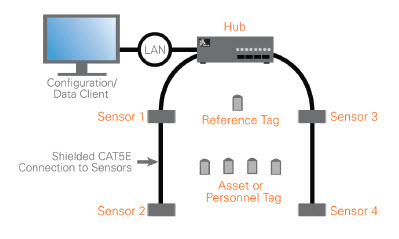 RTLS references fixed points which receive wireless signals from tags to determine their location. RTLS systems include "active" transponder tags that transmit a long-range signal (up to thousands of meters with ISO/IEC 24730-2) at regular intervals, location sensors that receive and process tag signals, and a location appliance that collects and correlates the data. Ultra-wideband (UWB), RTLS tags have accuracy greater than one foot, and consume minimal power. Depending on the RTLS application, tags contain a battery life of up to seven years. RTLS are a form of local positioning system, and do not usually refer to GPS or to mobile phone tracking. Location information usually does not include speed, direction, or spatial orientation.
RTLS tags can attach to forklifts, containers, hospital and test equipment, trailers and containers, and personnel identification cards. RTLS tags feature programmable transmit rates, and support a configurable "blink" rate that sends out identification and telemetry data at fixed intervals. Once activated, the tag transmits a signal to identify its precise location. Location sensors allow flexible placement in and around a facility, a shipping yard, on light poles, or corners of outdoor buildings. The combination of location data from the RTLS system and the telemetry data enables a nearly unlimited set of applications.
Applications
Asset Tracking
Tracking Products through an Assembly Line
Geo-locating High Value Assets
Tracking Personnel
Like RFID, RTLS will reduce search time for assets, reduce equipment movement, and provide visibility of assets and production flow throughout the enterprise. This visibility creates the opportunity to reduce costs and improve business flows. Many business operations have realized tremendous ROI by reducing inventory count processes and searches for lost or misplaced assets.
Paragon Print Systems, Inc., the BarcodeFactory, provides solutions that give clients visibility into the assets, people, and workflows that drive business decisions. We offer hardware, software solutions and installation services. We offer on-site workflow analysis anywhere in North America.