Impinj RFID Software Solutions
Impinj software delivers enterprise-ready Item Intelligence solutions that simplify RAIN RFID processes including device management, data processing and tag encoding.
Impinj Item Intelligence and the Internet of Things
Item Intelligence from Impinj wirelessly captures the identity, location and authenticity of items, enabling, for the first time, trillions of items to be a part of the Internet of Things. Major retailers worldwide are adopting Item Intelligence, enabling efficient omni-channeling, the creation of enhanced shopping experiences, and the collection of valuable data.
ItemSense Software
Impinj ItemSense ™ software enables businesses to quickly and easily integrate Item Intelligence, including the identity, location and authenticity of everyday items, into enterprise applications. As a key element of the Impinj platform, ItemSense software transforms RAIN RFID data into business-driven information and simplifies the management and monitoring of RAIN hardware devices. Impinj works closely with enterprise software providers, including those in retail and healthcare, to integrate Item Intelligence into existing and new applications.
ItemEncode Software
ItemEncode (previously a function of the Impinj STP source tagging platform) is a flexible software system that boosts the speed and data quality of RAIN RFID encoding machines while lowering labor and operating costs. ItemEncode enables encoding machines to achieve high speeds (up to 9,500 tags/min), advanced error correction and low operating costs.
ItemVerify Software
ItemVerify is a flexible software system for identification of RAIN RFID tagged items in cartons moving at line speed along a conveyor system. ItemVerify enables faster and more accurate item level tracking of goods entering or leaving a distribution center or warehouse - enhancing supply chain logistics.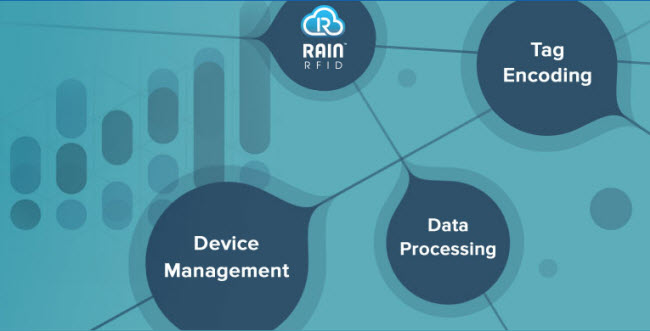 ---
BarcodeFactory, a Paragon Print Systems, Inc. company is committed to simplifying the integration and use of RFID and Barcoding technology. We offer site analysis, tag testing, professional integration, consulting and installation. We are premier partners with the world's largest RFID and Barcoding equipment, Label and tag manufacturers. This provides our clients with the very best pricing in RFID hardware and supplies. We can manage the entire process from concept to installation. Since 1994, Paragon has offered clients worldwide with cutting edge technology designed to improved productivity and reduce operational cost. Contact us to discuss your RFID application.