Blood and Plasma Bag Labels
Custom and Stock Blood Bag Labels that Meet ISBT 128 Global Standards
ISBT 128 is a global barcode standard used for the identification, labeling and information processing of human blood, tissues and organs across international borders and disparate healthcare systems.
When using ISBT 128 labels, you will either need black labels or to use pre-printed ones. Barcode Factory offers both stock and custom blood bag and plasma labels. View our stock blood bag and plasma labels here. Contact us below for pricing on custom jobs.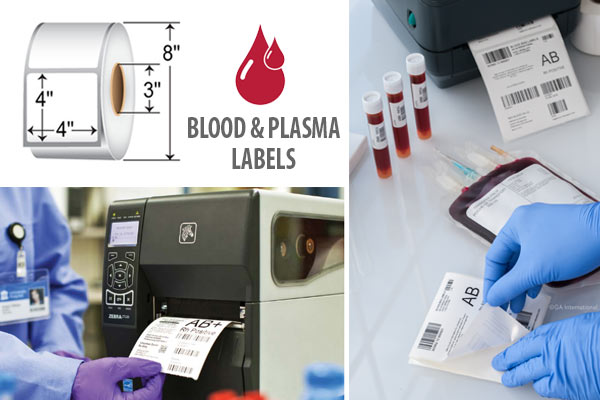 Barcode Factory offers stock and custom labels for blood and plasma bags. These labels are made of durable synthetic material on one-inch or three-inch cores. Because of the ISBT 128 standards, the sizes are 2 x 2, 2 x 5/8, 4 x 2 or 4 x 4, with a maximum width of four inches.
---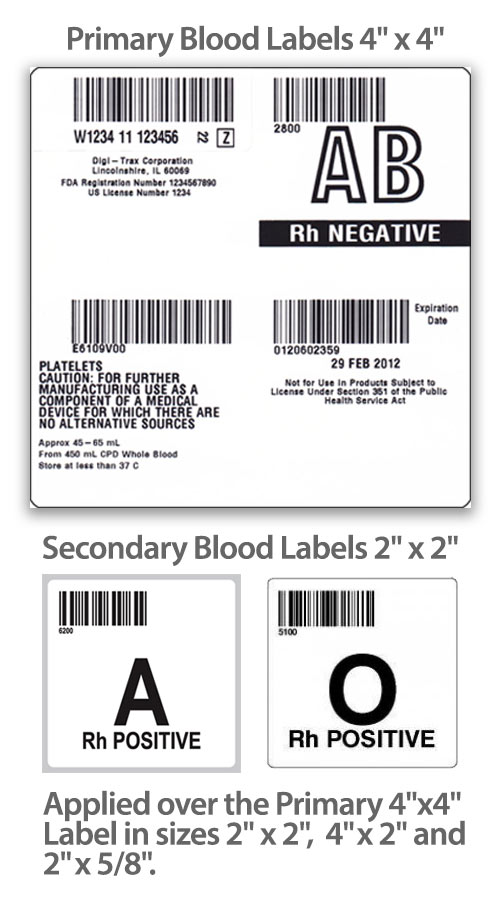 Primary Blood Bag Label
Labels are placed directly onto blood bags by the blood bag manufacturer, displaying information such as manufacturer name, manufacturer address, batch number and product code. Additional primary labels are used at the processing facility, such as the blood bank or within the hospital. Once blood has been collected, blood bags must be labeled and barcoded with blood type, donor number and other important information. The adhesive used on these labels must not alter or damage the blood. Primary blood bag adhesive has been ISEGA approved and complies with ISO 3826 for direct labeling onto blood bags.
Secondary Blood Bag Label
Intended for placement on top of primary labels, secondary labels usually feature a multipart design used for traceability and tracking purposes. This material is not approved for direct blood bag application and should only be used as an overlay.