Environmentally Friendly Labels
Zebra Environmentally Friendly Supplies Solutions
Zebra supplies help you to decrease your environmental impact, while also increasing operational efficiencies and productivity. Barcode Factory carries a complete line of eco-friendly Zebra certified supplies to help you demonstrate your dedication to global responsibility.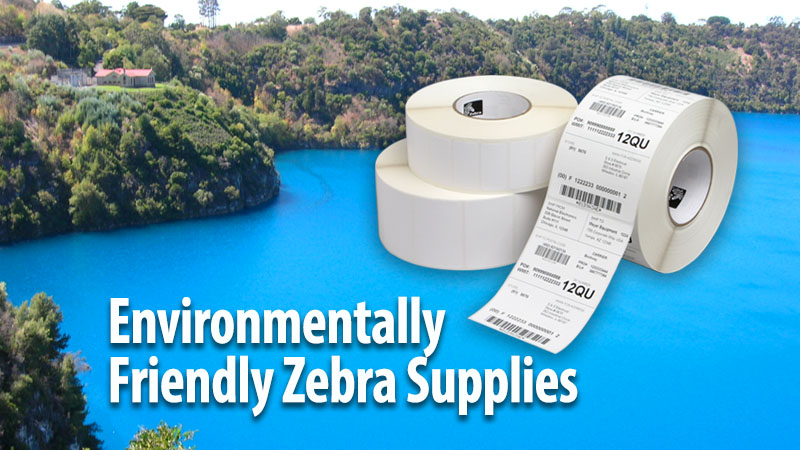 Consistently Certified Supplies
Zebra maintains consistently high performance in all hardware and applications. Meticulous engineering goes into every label and ribbon:
No substitute materials, ensuring supplies perform consistently from order to order
Extensive material testing including production trials, print quality, printer wear and tear application testing to ensure quality
ISO 9001 certified
Exceptional Service
Zebra is one of the largest and most experienced label converters in the world. Zebra's size and scale provide unparalleled service for all printing supplies.
Four locations in the U.S. allow Zebra to produce and ship quickly.
We can consult with you on label design and produce custom Zebra supplies.
| Material Name | Printing Technology | Material Type | Adhesive | Key Features |
| --- | --- | --- | --- | --- |
| Z-Perform 1000D PF Label | Direct Thermal | Phenol-Free Paper | Permanent Acrylic | Engineered with Vitamin C as developer instead of a phenol, offering a unique and innovative alternative to standard shipping labels. |
| 8000D Dissolvable Label | Direct Thermal | Paper | Permanent Acrylic | When subject to running water, the facestock disperse into small paper fibers while the adhesive dissolves away from the surface, reducing waste. |
| 8000D Linerless Label | Direct Thermal | Paper | Permanent Acrylic or Removable | Features a silicone release top-coating and special adhesive that enables the labels to peel away from labels underneath it with no liner needed. Eliminate liner waste commonly found with standard labels. |
| Z-Perform 1000D PF Label | Direct Thermal | Phenol-Free Paper | Permanent Acrylic | When used with a polyethylene bubble mailer consumers can easily recycle, reducing waste |
Environmental Commitment
Zebra is committed to supporting and protecting the environment with multiple initiatives:
Zebra device buy-back program
Certified refurbished products
Product recycling
Batteries documentation
RoHS declarations
Material disclosure compliance
REACH disclosure information
Environmental compliance certifications
Waste Electrical and Electronic Equipment Directive (WEEE) compliance
Responsible Business Alliance (RBA) statement, formerly EICC
For more information or to discuss your project, contact us or call 888-237-8525.