Thermal Pot Stakes
Horticulture Plant-Pot Stakes for your greenhouse
Printing barcodes on Pot Stakes and more - Barcode Factory offers a complete solution for all your plant and tree marketing tags. Let us help you determine which combination of thermal printer will work with what type of pot stake size and thickness. We carry a large variety of tag types, colors, thicknesses and quantities to help you through the growing season.
The Growing Industry- Tree Wrap and Hang Tags -
In addition to Pot Stakes many growers also use Wrap Tags and Hang Tags to mark their plants in larger quantities. Barcoding makes tracking your inventory easy.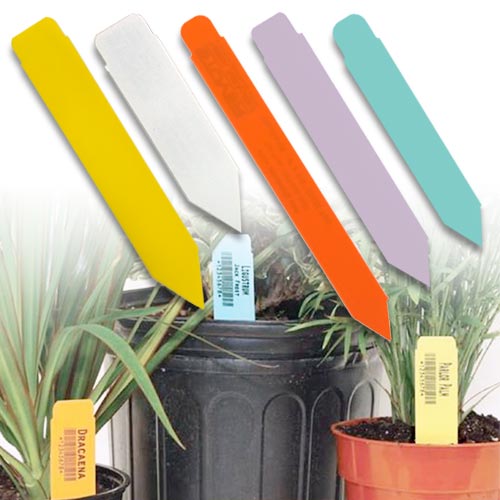 Pot Stakes- Thermal Pot Stakes are delivered on rolls side-by-side or end-to-end and will work in thermal printers capable of printing 4.25" or wider.
Description-
Widths from 1/2" to 1-1/2", Lengths from 3-1/2" to 8".
Colors including White, Blue, Orange, Pink, Red and Yellow.
Thickness of Styrene from .012. .020, .022
Benefits of Pot Stakes-
Reduces Returns and Confusion- Seeing information at a glance helps your customer make an educated selection.
Easy to Use and Waterproof- The variety of pot stake heights, widths, thicknesses and colors make marking each plant simple.
Bulleted Item 3 (use bullet icons you created)
Pot Stake Printers- Two major factors are involved in printing Horticulture Tags. The printer physical width and the printhead. Pot Stakes that are .012 the thinnest will work fine on most desktop or industrial printers. Thicknesses over .012 will require a near-edge printer, which has the physical ability to receive greater thickness stock.
The thermal ribbon required will be wax-resin or full-resin to transfer onto these plastic materials. The average width of industrial printers is under five inches. Extra-wide or customized printers are necessary for printing very wide widths. Our horticultural printers include these brands: Zebra, Sato, Toshiba, and TSC.
Don't want to buy a printer?
Barcode Factory offers pre-print services for all of our Pot Stakes, Hang Tags or Wrap Tags, including sequential printing or barcodes and or numbers. Contact us for an estimate.
For more information or to enroll, please fill out the form or call us at 888-237-8525.