Thermal Wrap Tags
Horticultural Wrap Tags for Marking Trees, Bushes, and other Plants
A Great Solution for Outdoor Marking
This long-time solution for tagging trees, plants and more can be thermally printed on in large quantities with scannable barcodes. Standard material is Polyethylene with many locking, profile and tear-off features. Extra-durable Vinyl is also available. We carry a large variety of wrap-tag colors, thicknesses and quantities to help you through the growing season.
---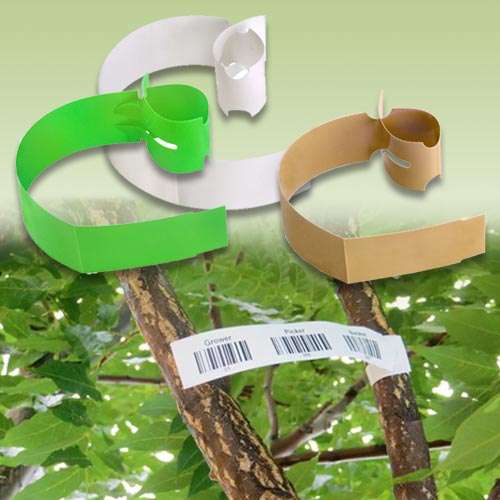 Wrap Tags
The locking notches on wrap tags allow for thick or thinner branches. The length and color of the tag make it easily readable with perforated tear-off feature, for easy purchasing, while plant identification stays with the customer. Wrap tags with the special T-lock feature help the tag rigidly stand-off of the plant for easy reading.
Specifications
Widths of each individual label ranges from 1/2" to 1".
Colors including White, Blue, Gold, Green, Orange, Pink, Red, Tan and Yellow.
Thickness of Styrene from .012. .020, .022
Benefits of Wrap Tags
Reduces Returns and Confusion- Seeing information at a glance helps your customer make an educated selection.
Easy to Use and Waterproof- The variety of pot stake heights, widths, thicknesses and colors make marking each plant simple.
Guaranteed to lock onto the branch or stem and stay put using no strings or ties.
---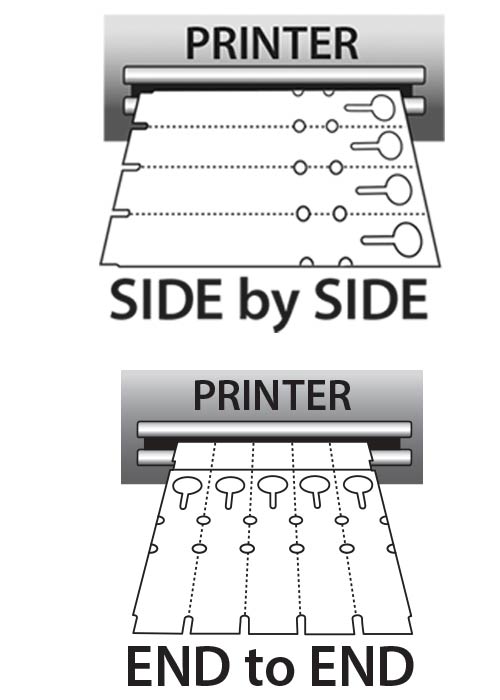 Label Orientation
Thermal Wrap Tags are manufactured on rolls and connected by a common micro-perforation that allows for clean and easy separation. They are produced in either side-by-side or end-to-end orientation. Each tag type has its own pros' and cons'.
Side-by-Side
PRO: Individual Tags can be printed in sequence without wasting Tags easily.
CON: Maximum print width of most desktop and industrial printers is 4.25 inches, limiting the size tag you can print.
CON: Wider width printers are available for printing the largest size tag but adds between $1,500 and $2,000 to the cost of an industrial printer.
End-to-End
PRO: Tags and Pot Stakes can be printed on certain Desktop Printers which are substantially less expensive than Industrial printers.
CON: Tags are in banks of 4 or 5. Printing only one or two labels will waste the balance of tags in that bank.
CON: Typically fewer tags per roll.
---
Wrap Tag Printers
Two major factors are involved in printing Horticulture Tags. The printer physical width and the printhead. Wrap Tags have a similar mill thickness, however the width determines which printer you will need. Please contact a Barcode Factory sales representative to make the best decision choosing your printer.
The thermal ribbon required will be wax-resin or full-resin to transfer onto these plastic materials. The average width of industrial printers is under five inches. Extra-wide or customized printers are necessary for printing very wide widths. Our horticultural printers include these brands: Zebra, Sato, Toshiba, and TSC.
Don't want to buy a printer?
Barcode Factory offers pre-print services for all of our Pot Stakes, Hang Tags or Wrap Tags, including sequential printing or barcodes and or numbers. Contact us for an estimate.