Tyvek Labels
Tyvek Label Material
Tyvek Labels
are constructed of polyethylene fibers that are smooth, flexible, water resistant and made to last. The most recognizable use of Tyvek is the semi-famous bed mattress tag.
BarcodeFactory offers stock and custom labels with Tyvek face stock and thermal transfer coating.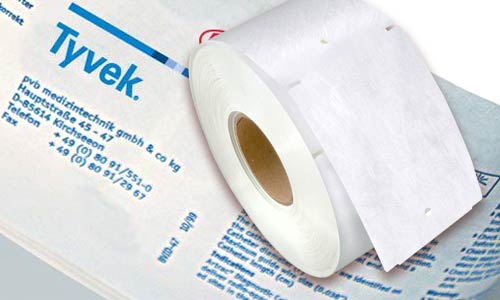 Applications Industrial tags, law tags, product id tags, security tags, seed bad tags, shell fish tags, textile tags, tree/nursery tags.
Minimum Application Temperature

N/A

Service Temperature Up

to 176°F

Outdoor Durability 6 mos - 1 year (depending on exposure conditions)
Tear Resistance Excellent.
Surface Application Corrugate, paper, packaging films, most plastics, stainless steel and glass.
Description A tough material constructed of polyetheyne fibers that is strong, lightweight, flexible, smooth, opaque and resistant to water, chemical abrasion and aging.
Other label stock material pages

Note: Label Stocks below are often referred to generically as "Synthetic Label Material"
For more information or to enroll, please fill out the form or call us at 888-237-8525.