UL Certified Thermal Labels
Understanding UL Requirements
Print your own or have them pre-printed
Specific durable label material is required to create a label that has the UL registered trademark. Barcode Factory has stock label material for you to print, or we can print them for you. Since these labels are required to last the life of the product they are placed on, you may want to contact us to make sure your label meets all the UL requirements.
Subheading
UL ® Labels have been engineered to be permanently applied to equipment or products and will last the life of the equipment or product. Our variety of synthetic and vinyl label material used with the proper resin ribbon create labels that are UL certified for many applications.
UL Compliant Labels use materials and have designs which have been approved by Underwriters Laboratories, an independent, non-profit organization that develops electrical safety testing standards and regularly tests products for compliance. They then certify the product and authorize the UL symbol to be shown on the product. This adds a level of comfort for the person purchasing the product knowing that it has been properly tested for electrical safety purposes. Often UL will not only test and certify the product itself, but the components of the product as well.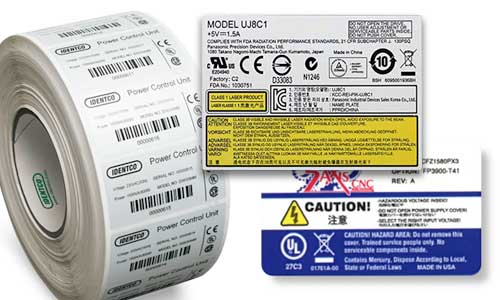 Whether you need UL certified label material to print on, custom pre-printed blanks, or sequential information, we have the answer for you. Barcode Factory offers conventional printing, digital printing and thermal printing that will meet your UL certification needs.
Printing Options
Variable imaging of data or graphics
Custom shapes or sizes at little or no extra cost
Prototyping for market testing or label samples
For more information or to discuss your project, contact us or call 888-237-8525.