Water Dissolvable Direct Thermal Label
Direct thermal labels with adhesive that washes off underwater
Barcode Factory offers direct thermal, water-soluble dissolvable labels that are designed for most major manufacturers' thermal printers. Our dissolvable labels can be applied to and washed off of a wide variety of surfaces including glass, plastic and steel. Our manufacturing capabilities include custom shape and size, color backgrounds, and sized for any printer including 1" core, 3" core or fanfold. These paper labels wash away under running water, leaving no residue.
Our water-soluble dissolvable labels are direct thermal only. Thermal transfer ribbon images are not dissolvable but the image that is created from heat on a direct thermal label, will dissolve. Our inks can be pre-printed, such as a full background tint of yellow or any color are water-soluble.
With our water-soluble dissolvable labels, your surface will be clean and residue free. Our labels and paper adhesive will dissolve from almost any surface.
Dissolvable Label Benefits
Save Time- No need to labor scraping off label.
Save money- Prevent drain blockages
Compliance - complies with Health Department standards
Stock and Custom Sizes Available
Contact us for available stock sizes
We can manufacture and shape or size with dissolvable label materials
Colors - Our manufacturing capabilities of dissolvable direct thermal labels includes color stripes and color background labels
Available in 1" core, 3" core or fanfold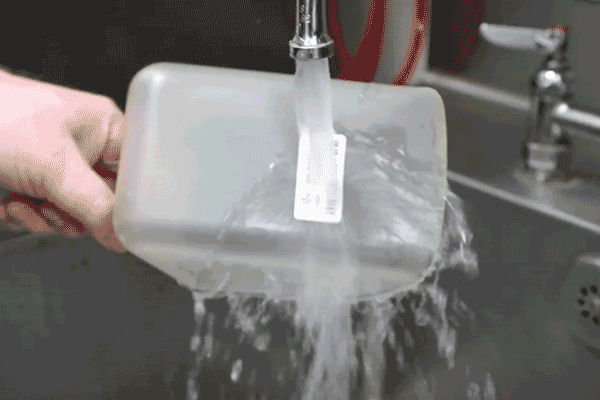 For more information or to discuss your project, contact us or call 888-237-8525.