Direct Thermal vs Thermal Transfer
Does your printer need a ribbon?
What's the Difference?
A common question we receive is, "what is the difference between thermal transfer and direct thermal printing?". While both methods use heat to image a substrate, direct thermal or DT, uses heat directly from the print head to the substrate, (label, tag, paper), while Thermal Transfer uses heat from the print head, on to a thermal transfer ribbon. The transfer is the heat melting the ribbon forming an image on the substrate, which would be a label, tag or paper.
Thermal Transfer
In thermal transfer printing, heat from the printer's printhead travels through the ribbon onto the substrate (label or tag), leaving the desired image on said substrate. The type of ribbon is called a thermal transfer ribbon and can be made up of one of three classifications of material; Wax, Wax/Resin, and Full Resin.
Material: Paper, paper tags, synthetic labels and synthetic tags
Uses: Because Thermal Transfer labels have a durable wax image, they are used for a very wide variety of applications, Everything from shipping labels to asset marking, product labels, and much more.
Advantages:
Slightly less expensive than Direct Thermal labels
Long life of labels
A wide variety of materials
Good UV and chemical resistance and the only solution for labels exposed to UV, liquids or a long life
Disadvantages: Ribbon required for material and some users prefer not to have to handle ribbons on the printer.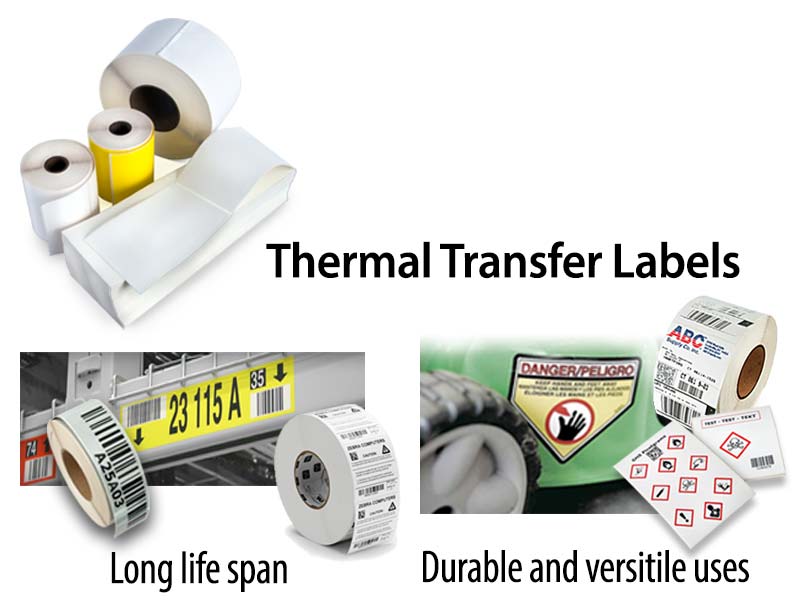 Direct Thermal
In direct thermal printing, heat from the printer's printhead interacts directly with the chemical coating on the substrate (label or tag), and leaves the desired image on said substrate. The chemical coating on a direct thermal label turns black where heat is applied.
Each label type has different uses. We can help you choose the right label or thermal printer to meet your application requirements.
Material: The majority of Direct Thermal labels are paper, paper tags and limited synthetic labels.
Uses: Most often used as retail receipts and shipping labels.
Advantages:
No need for ribbon
Inexpensive to purchase and print
Great for receipt and shipping labels, or any label, tag or receipt that has a short life and no exposure to the elements.
Disadvantages:
Limited lifespan of the printed image
Much less durable than Thermal Transfer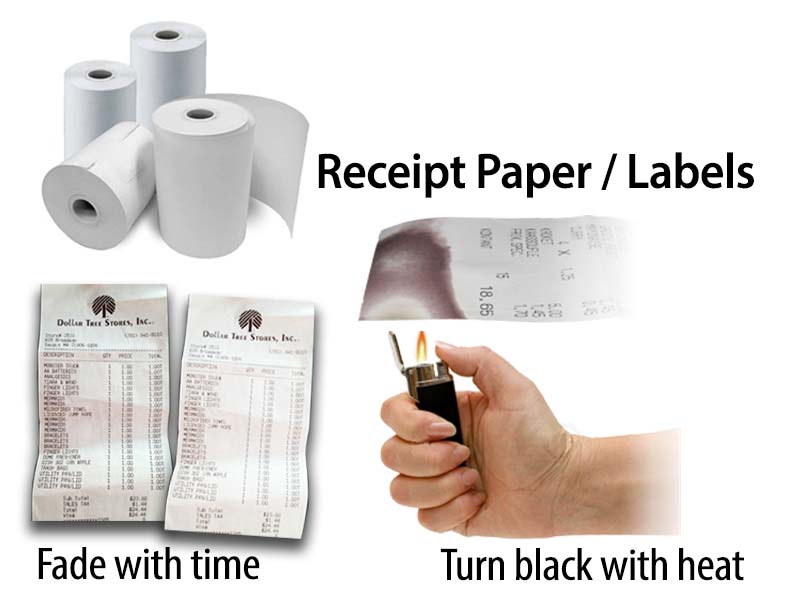 ---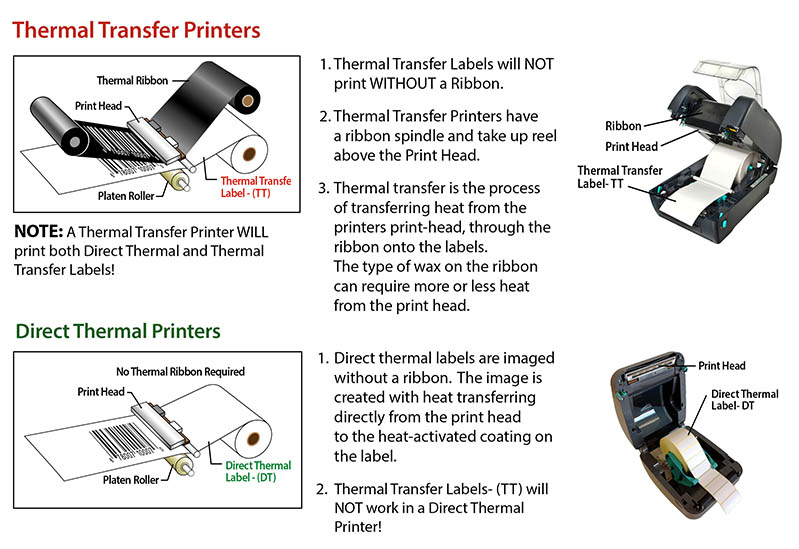 ---
Thermal Transfer Ribbons Explained
We can help you determine what is right for your application – thermal transfer or direct thermal. We have test facilities to determine the best adhesive, face stock and print technology will best meet your application requirements. To identify the right label face stock, adhesive and if applicable, the right ribbon for any application. We have designed labels for the most rugged applications including the US Military, Automakers and the Aviation industry and manufacturers in every sector.