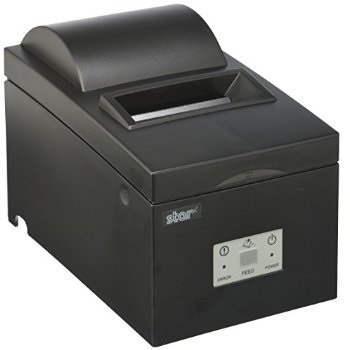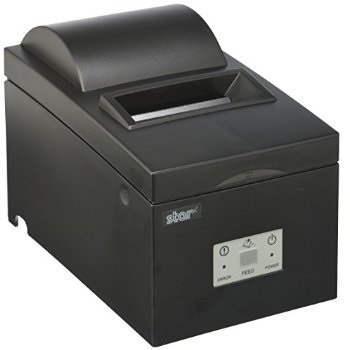 Star Micronics SP512MU42 Receipt Printer
---
Printer Type

Receipt

Print Technology

Dot Matrix

Interface

Serial

USB

Ethernet

Parallel

Wireless LAN

USB-A

dpi (dots per inch)

203dpi

Printer Options

Cutter

Tear Bar

Max Media Width

3.0-3.9 inch

Color

Black
---
Product Highlights
Dot Matrix Printer, Tear Bar, 203DPI, USB Connectivity, Putty Case, Power Supply Included, Non-Cancellable, Non-Returnable

Spec. Sheet
Star SP512
Star Micronics SP500 Series
The SP500 combines renowned reliability and a multitude of high end features into a compact, value-driven solution. It is capable of fast output, printing 40 columns at 4 lines per second. This printer series has a bi-directional, logic seeking mechanism resulting in an exceptional throughput outpacing its nearest competition. Its compact footprint is further enhanced by its internal power supply - no "brick on a rope" for this printer. This efficiency is further shown in the highly effective cable management system allowing the interface and internal power supply cables to be neatly tucked away behind a protective cove.
The hinged cover of the SP500, with its integrated rain channel, protects the printer from liquid spills and other debris. Protection from the elements and the single color highlight feature of the SP500 series provide an excellent solution for food service and kitchen applications.
Specs at a Glance
Small Footprint
Internal Power Supply
Single Color Highlight Feature
3 Ply Paper Supported
Recessed Cable Connections
HARDWARE FEATURES AND BENEFITS - SP500
High Speed Can print 4.2 Lines Per Second at 40 Columns
High Reliability MCBF: 22 Million Lines Guillotine Auto Cutter: 0.3 Million Cuts
Small Foot Print Save precious counter space
Embedded Power Supply No more power brick, saving even more counter space
Multiple Copy Support Print multiple part forms; Supports Original + 2 copies
Swappable Interface Connections Future interface upgrades are fast and simple to do. With swappable interfaces, there's no need to purchase a new printer just to upgrade the connection
Recessed Cable Connections Helps protect cables from being damaged on the counter top
Horizontal or Vertical Orientation Use the printer in the orientation that suits you best
Spill Proof Design Hinged cover design resists spill damage
Wall Mountable Need more counter space? Create more room by mounting the printer to the wall
SOFTWARE FEATURES AND BENEFITS - SP500
Simple-to-Use Utilities Available on the web for download, free, easy to use
Memory Switch Utility Fine-tune your print outs or print in different languages by enabling, changing, or disabling certain settings
Ethernet Interface Set Up Utility Setting up and configuring an ethernet printer has never been more quick and easy!