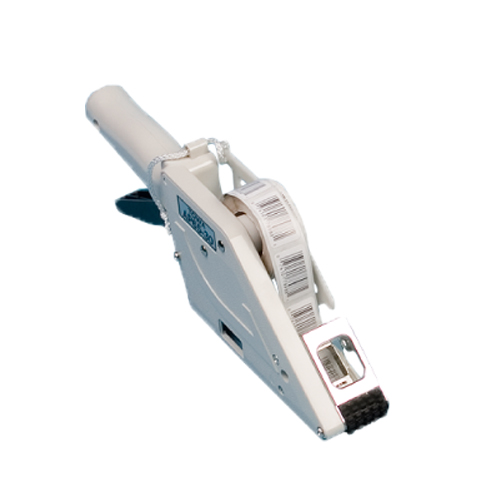 Tach-It AP65-30 Label Applicator
---
| | |
| --- | --- |
| Applicator Style | Handheld |
| Part Type | Applicator |
| Applicator Type | Manual |
---
Product Highlights
Tach-It AP65-30, Length: 11 Inches, Width: 1 3/4 Inches, Height: 4 Inches, Minimum: .75 Inch x .75 Inch, Maximum: 1.2 Inches x 2.36 Inches, Max Roll Diameter: 3.93 Inches, 2 Units Per Case, Priced Per Case
Call for availability of less than full case with purchase of additional Tach-It products.

Spec. Sheet
AP65 Series – Label Applicator Machine
Available in 3 sizes for different widths of labels, the hand-held AP65 series of label applicators does repetitive labeling in a fraction of the time of hand labeling. These durable, lightweight, easy-to-use applicators apply all types of die-cut labels to any surface. Equipped with a unique sensor which automatically adjusts the label stroke, operators can increase productivity by simply squeezing the trigger and knowing that only 1 label will be fed. See below for dimensions and necessary information regarding these unique machines.
Hand-Held Label Applicators.
Available in 3 models depending on width of label
Unique mechanical sensor automatically adjusts the stroke of the trigger to the die-cut of the label so only one label is applied with each pull of the trigger.
Lightweight and fully portable.
For high production repetitive labeling applications.
Perfect for applying PLU labels to agricultural products, palletized goods and for use anywhere a portable label applicator is needed.
For die-cut labels on a 1″ core
Can dispense labels with a maximum width of 3.93″ and length of 2.36″
Specifications
Maximum Label Roll Diameter: 3.93 inch for all models
Core Size: 1" for all models
Speed: Manual Determined by Operator
AP65-30:
Weight AP65-30: 11.2 ounces without labels
Machine Dimensions AP65-30: Length - 11 inch, Width - 1 3/4 inch, Height - 4 inch
Label Size AP65-30: Minimum - .75 inch x .75 inch , Maximum - 1.2 inch x 2.36 inch
AP65-60:
Weight AP65-60: 13.1 ounces without labels
Machine Dimensions AP65-60: Length - 11 inch, Width - 2 5/8 inch, Height - 4 inch
Label Size AP65-60: Minimum - 1 inch x .75 inch , Maximum - 2.36 inch x 2.36 inch
AP65-100:
Weight AP65-100: 15 ounces without labels
Machine Dimensions AP65-100: Length - 11 inch, Width - 4 1/2 inch, Height - 8 inch
Label Size AP65-100: Minimum - 2.15 inch x .75 inch , Maximum - 3.93 inch x 2.36 inc