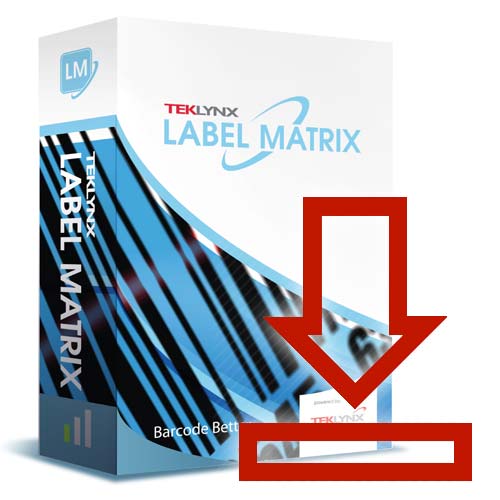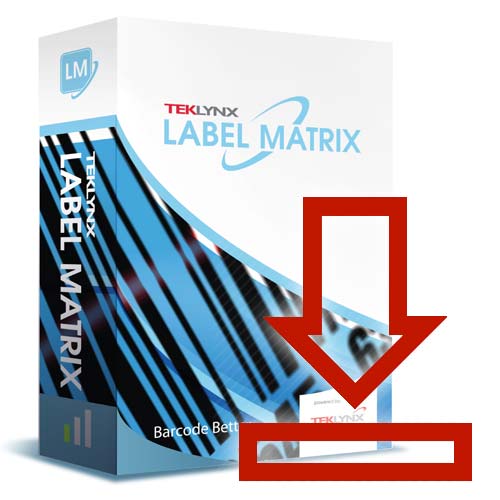 TEKLYNX LABEL MATRIX QuickDraw 2021 Software
---
Software Version

Full Version

Support (SMA)

Software Users

Single User

Software Type

Subscription

Virtual Machine
---
Product Highlights
TEKLYNX LABEL MATRIX QuickDraw 2021, Single User, 3yr Subscription, VM Compatible, Includes SMA
*This item is electronically delivered via email.

Spec. Sheet
NEW Features for LABEL MATRIX 2021
Along with updated printer drivers, LABEL MATRIX 2021 introduces label design smart guides to easily align artwork and elements on your label.
TEKLYNX LABEL MATRIX 2021
For Simple Labeling Requirements
LABEL MATRIX is feature-rich label design software for companies looking for a trusted solution that is simple to install and easy to use. LABEL MATRIX is an intuitive application with an easy-to-navigate interface. Helpful wizards guide you through adding text, images, and barcodes, database connections, and advanced design options to ensure a straight forward process. LABEL MATRIX is the best choice for low complexity labeling environments looking for a labeling solution at a reasonable price.
TEKLYNX Subscription Licensing is available for LABEL MATRIX. Subscription Licensing is the best option for maximum flexibility and long term value. The upfront cost of a LABEL MATRIX subscription license is lower, and it includes more value than ever before.
Note: To run LABEL MATRIX on a virtual machine, a LABEL MATRIX VM license is required.
Keep your software up to date, without spending extra time or money.
Easily understand software costs for simplified and predictable budgeting.
Take advantage of unlimited access to software maintenance, technical support, and training webinars
Features
Wizards - LABEL MATRIX' wizards can act as training guides when new users begin using the application.
2D Barcodes - Support for 100+ barcode symbologies, including Data Matrix and QR Codes.
Counters - Easily add serialization and incremental values to your labels.
Date Offsets - Adjust the current date by a certain interval (often used for best-by and expiration dates.)
Benefits
How can LABEL MATRIX help your company?
Save Time on Training - Use LABEL MATRIX' helpful wizards to cut down on training time. Wizards are available for everything from selecting a printer, to database setup, to 2D barcode configuration.
Fast Track Labeling - LABEL MATRIX includes hundreds of label samples and templates, spanning from address labels to industry regulation labels. These samples and templates allow users to meet virtually any labeling requirements quickly and easily.
Scale Your Business - LABEL MATRIX is designed to meet the needs of small labeling environments, but powerful enough to handle large labeling projects. When it's time to move up to a more robust solution, LABEL MATRIX label files easily convert to LABELVIEW files.
Edition Comparison
Which edition of LABEL MATRIX is right for your labeling needs?
LABEL MATRIX QuickDraw is a basic label design package recommended for printing linear barcodes to Inkjet or LaserJet printers using store-bought sheets of labels, such as Avery forms and templates.
LABEL MATRIX PowerPro has the ability to print linear and 2D barcode labels to direct thermal and thermal transfer printers. It is available in network (multi-user) licensing.
Note: To run LABEL MATRIX on a virtual machine, a LABEL MATRIX VM license is required.
| LABEL MATRIX KEY FEATURES | POWERPRO | QUICKDRAW |
| --- | --- | --- |
| Graphic & native barcodes | × | Graphic Only |
| TCP/IP printing | × | × |
| OLE and ODBC support | × | Limited |
| Hidden (unprintable) objects | × | × |
| Label password protection | × | |
| User-defined printing log file | × | |
| Directly modify printer code (Job Modifier) | × | |
Is LABEL MATRIX your solution?
LABEL MATRIX is ideal for low complexity labeling environments.
Companies who use LABEL MATRIX want a basic interface that is easy to learn and create text-based labels that primarily include fixed information. LABEL MATRIX provides a simple, yet robust, solution for companies looking for an entry-level barcode labeling solution at a reasonable price.
Companies who use LABEL MATRIX typically have:
3 or fewer printers
Minimal user input
Fixed data
Simple labeling needs: click and print
Static labeling environment
Office or laser jet printers connected to desktop print stations