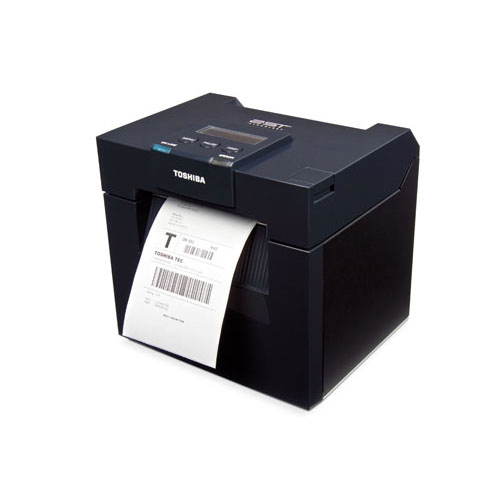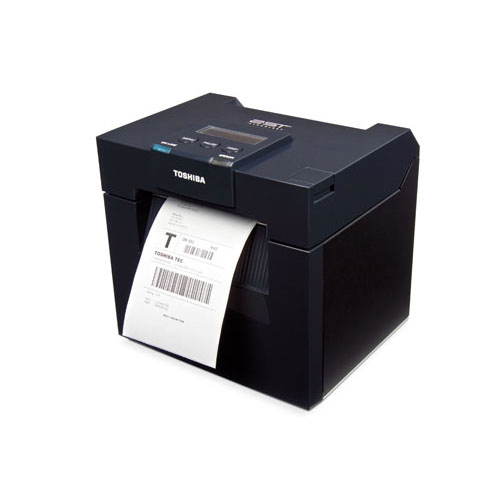 Toshiba DB-EA4D DT Printer [203dpi, Ethernet]
---
Printer Type

Desktop

Print Technology

Direct Thermal Only

Interface

USB

Ethernet

Parallel

USB-A

dpi (dots per inch)

203dpi

Core Size

3.00 inch

Max Media Width

4.0-4.9 inch
---
Product Highlights
Direct Thermal Only Barcode Printer, 2-Sided, 4-Inch Max Print Width, 203 DPI, USB/Ethernet/Parallel Connectivity.

Spec. Sheet
The Barcode Factory does not guarantee open box returns with hardware purchased through Toshiba TEC.
Toshiba TEC DB-EA4D
Compact and Multi-purpose 2-sided Label Printing Solution
A ONE-STOP SOLUTION
Toshiba can offer a total solution including a full range of approved media, labels, consumables and cleaning products.
A support network in the majority of countries provides essential peace of mind that - once installed - the printers will be serviced and maintained by experienced engineers and service staff.
GREEN CREDENTIALS
Toshiba is committed to the design and manufacture of products that reduce environmental impact, creating environmental quality standards for each product and prescribing them with the highest levels required by the industry.
CUSTOMER BENEFITS
Reduced costs - labels/receipts, storage, shipping
Low total cost of ownership
Environmentally friendly - use of backing paper
Easy to use and operate
High performance
Less user intervention so staff can be utilised more efficiently
Range of possible applications are endless!
The compact, rugged and robust DB-EA4D double-sided label printer has been designed to offer a low-cost and green solution for applications requiring dual output. With user-friendly operation and high-speed printing, this innovative technology provides a reliable and efficient alternative to traditional single-sided solutions.
ENVIRONMENTALLY FRIENDLY
Today's labeling solutions create waste by the need to throw away the backing paper.
In the with its ever more green endeavors Toshiba has addressed this issue by developing the DB-EA4D 2-sided direct thermal printer which adds value and usability to a label's backing paper, or the back of a ticket, by printing directly onto it.
COMPACT HIGH PERFORMANCE
The solid design and small footprint ensures the printer has the flexibility to operate in any environment or application, from diverse manufacturing requirements to confined retail and logistical operations
The label and backing paper are printed simultaneously, facilitating fast output of labels and receipts with speeds up to 6ips.
LOW COST OF OWNERSHIP
Using parcel deliveries as an example, the address label for a delivery can be printed at the same time as the delivery's packing list is printed on the label's backing paper.
Dual-sided printing offers various savings aside from the lower media costs, e.g. reducing storage space and shipping costs as fewer label or receipts are required.
EASY OPERATION
The intuitive LCD back lit menu allows simple user operation, supported by colour LED notification lights (using colours distinguishable by the visually impaired). Auto-feed functionality enables trouble-free quick paper-loading, and easy maintenance is facilitated with tool-less replacement of key components like the print-head and platen roller.
FLEXIBLE OPTIONS
The DB-EA4D is available with paper roll holder options, further enhancing the flexibility and range of applications for printing. With Bartender as standard and the option to download enhanced software, the user can easily design the label to meet the requirements of the business.
Temp. Out of Stock;
Available to Order This item is currently out of stock. This manufacturer may have options with similar features. Contact us for lead time or another product that may work for you. If you place the order now, we will inform you when the item will be ready. You will not be charged until the order is ready to ship.