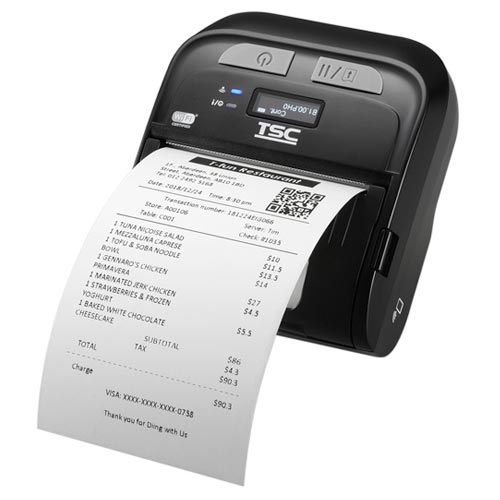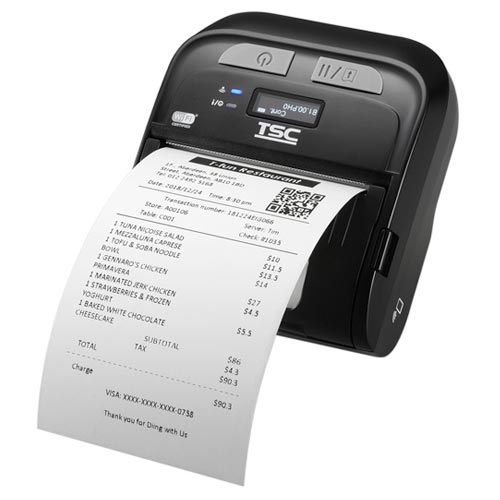 TSC TDM-30 Mobile Receipt Printer
---
Print Technology
Direct Thermal Only
Interface
Bluetooth, USB,

Micro-USB

dpi (dots per inch)
203dpi
Core Size
0.75 inch
Printer Options
LCD Display
Max Media Width

3.0-3.9

inch
Color
Black
---
Product Highlights
Portable Direct Thermal Only Receipt And Label Printer, 3-Inch, 203 DPI, 4 Inches per Second, 16MB Flash, USB, MFi Bluetooth 5.0, Passive NFC Tag, LCD Display, Receipt Sensor, Includes: Belt Clip, Power Adapter

Full Specifications
TSC TDM-30
Mobile Receipt Printer
TSC's new mobile barcode printer line, the TDM-30, is intelligently designed for on-the-go printing. Mobile printing is an excellent solution for any business that needs to print on demand. The TDM-30 is equipped to operate across different platforms with multiple connectivity options. Its lightweight, durable and flexible design, coupled with ease of operation without sacrifice of functionality is especially critical for retail and mobile point-of-sale (MPOS) applications.
The TDM-30's rugged palm size design has passed extensive testing for long-lasting performance. And its real-time printer health status provides two important functions: 1) The self-diagnostic TPH Care Mechanism ensures stable, high-quality printouts every time, and 2) The TDM-30 Battery Management solution effectively monitors the charging status to maximize battery capacity. With ample battery capacity, workers can use the printers for an entire shift without downtime.
The TDM-30 has a wealth of tools that guarantees easy integration into your MPOS system: Bluetooth is MFi certified and can be connected with an NFC tag; ESC/POS language is supported and has an OPOS driver for POS systems; a smartphone application for both Android and iOS is available for browser-based applications; and Software Development Kits (SDKs) and printer languages are available for all your other software integration needs.
Key Features
Rugged Palm Size Design
Drop test: 2.5 m with case; MIL-STD 810G standard
IP54 (dust/water-resistant) rating with case
Tumble test: 1.0 m with case
Flexibility in Various Media Support
Optional media hanger for various media width ranging from 20 mm to 70 mm
Various sensors for a wide selection of media types
Self-Diagnostic TPH Care Mechanism
An advanced mechanism allows for real-time printhead health status to ensure stable and high-quality printouts for maximum cost effectiveness
Smart Battery with TSC Printer Management
Centralized battery health monitoring system ensures completion of a full shift
Maximize battery lifetime to avoid the hidden costs and downtime
Integrated Software Pack
OPOS driver for POS application
With new iOS and Android APP, mobile configuration and web print become possible
Multiple Connectivity
USB 2.0 + MFi Bluetooth 5.0 + Passive NFC tag
USB 2.0 + 802.11 a/b/g/n Wi-Fi with Bluetooth 4.2 + Passive NFC tag
Applications
Public Utilities
Utility Billing/Meter Reading
Parking Citations
Warehouse and Logistics
Direct Store Delivery
Proof of Delivery and Pickup
Entertainment and Hospitality
Mobile Ticketing
Table Side Ordering
Retail
Receipt
Field Sales/Repairs
Healthcare
Transportation
Key Benefits
Certified Rugged Palm Size Design
The TDM-30 has passed extensive testing – IP rating, drop and tumble tests to maximize its functionality in harsh environments. With an optional protective case, TDM-30 printers are rated IP54 against dust and water in daily tasks. By simulating real-world workplaces for on-the-go mobile workers, the TDM-30 has been certified with a 2.5 m drop test using its protective case, MIL-STD-810G standard drop test and a 1 m tumble test.
SMART BATTERY SOLUTION
The TDM-30 smart battery option lets you monitor your fleet of batteries for both charge level and number of charge cycles using the Battery Management System found in the TSC Printer Management Utility. This allows you to understand the battery status while in operation and to determine when batteries are aging and need to be replaced. The result is having the right number of batteries with the right charge capacity to keep operations running smoothly.
Self-Diagnostic TPH Care Mechanism
The TDM-30 is equipped with a self-diagnostic TPH Care Mechanism, which includes an early warning function. By scanning and detecting any bad dots during the printing process, the TPH Care Mechanism proactively conducts a real-time TPH (Thermal Printhead) health check, maximizing printout quality and worker productivity while minimizing consumable waste.
Integrated Software Pack - OPOS/SDKs
The TDM-30 not only supports OPOS, but also provides mainstream platform driver support for Windows, Android, iOS and WinCE/Mobile. Having the OPOS/SDKs software pack integrated into the TDM-30 mobile printer allows users to easily use the library, saving programming time and increasing staff productivity. After integration, the customized software can be leveraged, tailored and optimized between POS terminals and printers for port communications, connections and transferring of print commands.
Superior TSC Mobile Utility
The TSC Mobile Utility enables mobile configuration and web printing via iOS and Android APP. It can be installed onto handheld devices to change remote printer settings and directly print from browser-based applications. This tool allows users with effortless access to website content and printing solutions through TSC printers via Bluetooth or Wi-Fi connections. To increase worker productivity, remote mobile configurations allow for real-time printer setting adjustments, status check and troubleshooting anywhere.
Temp. Out of Stock;
Available to Order This item is currently out of stock. This manufacturer may have options with similar features. Contact us for lead time or another product that may work for you. If you place the order now, we will inform you when the item will be ready. You will not be charged until the order is ready to ship.